APPLY FOR THIS OPPORTUNITY! Or, know someone who would be a perfect fit? Let them know! Share / Like / Tag a friend in a post or comment! To complete application process efficiently and successfully, you must read the Application Instructions carefully before/during application process.
Stimați prieteni,
Am tot sperat ca partidele declarate unioniste să renunțe la participarea în aceste alegeri și să sprijine blocul ACUM în acest scrutin de maximă importanță pentru viitorul românesc al Basarabiei.
Din păcate, s-a dovedit că interesele personale ale unor lideri unioniști, în special dorința de a scapa de pușcărie au primat, aceștia devenind candidați spoiler. O dovadă în acest sens este jocul PL de-a alianța cu ACUM și rolul de acoperire prestat de zisa convenție euro-unionistă care a dispărut la fel de repede cum a și apărut. Mai mult, PL și Dorin Chirtoacă și-au făcut un obiectiv din a-i ataca pe Maia Sandu și Andrei Năstase, cu care chipurile ar dori o alianță postelectorală, uitând cu totul de PSRM și Igor Dodon.
Este important ca în aceste alegeri să primeze logica și realismul. Un vot acordat unioniștilor penali care au intrat în cursa electorală numai pentru a scăpa de pușcărie este un vot dat lui Dodon și partidei ruse.
ACUM mai mult ca oricând este necesar să ieșim la vot în număr cît mai mare. Cu cât vom ieși mai mulți la vot cu atât victoria blocului ACUM va fi mai legitimă iar șansele de fraudare vor scădea.
How to Stop Missing Deadlines? Please Follow our Telegram channel https://t.me/PlopAndreiCom ( @plopandreicom)
Stimați prieteni,
Am privit cu uimire teatrul jucat de Partidul Liberal cu blocul ACUM și am rememorat circul de la alegerile prezidențiale din anul 2016 când, folosind aceleași tertipuri, Mihai Ghimpu s-a luptat nu cu Igor Dodon, pe care în final l-a ajutat să ajungă președinte, ci cu Maia Sandu.
Dacă în 2016 Mihai Ghimpu l-a ajutat pe Igor Dodon să ajungă președintele țării, prin comportamentul său Dorin Chirtoacă și ce a mai rămas din PL vor ajuta PSRM să preia puterea în Republica Moldova, cu toate efectele ce decurg de aici.
Cu toții am cunoscut faptul că pentru alegerile de anul viitor binomul Plahotniuc-Dodon va crea un bloc zis unionist care să fure voturi din zona Maiei Sandu și a lui Andrei Năstase. Mai mult, cu toții am fost încântați atunci când datele ni s-au confirmat prin apariția zisei Convenții Euro-Unioniste. De fapt, această Convenție Euro-Unionistă, dispărută între timp, nu a fost de cât o țintă falsă, creată artificial de Plahotniuc și Dodon, care să mascheze adevărata structură ce urmează să deturneze și să capaciteze câteva procente din zona ACUM. Adevăratul "bloc unionist"/ "listă națională" a lui Plahotniuc și Dodon abia acum urmează să se construiască în jurul PL cu largul concurs al lui Dorin Chirtoacă.
Actualul președinte al PL, dar încă nu conducător al formațiunii, știa încă din august 2018 că PL nu va fi acceptat ca entitate în cadrul ACUM (conform răspunsului primit de la Maia Sandu și făcut public de Dorin Chirtoacă) și poate doar delega oameni pe lista comună.
Faptul că delegații PL au fost trimiși să candideze în Găgăuzia sau în nordul Republicii Moldova nu este un motiv credibil de refuz. Oare acele circumscripții refuzate de Chirtoacă nu fac parte tot din Republica Moldova? Dacă s-ar face unirea ce ar face liderul PL cu ele?
Comportamentul și declarațiile lui Dorin Chirtoacă, Mihai Ghimpu sau Iurie Chirinciuc sunt dovada că PL reprezintă doar interesele de familie ale celor mai sus menționați și nu au nimic de a face nici cu unionismul, nici cu democrația și cu atât mai puțin cu interesele oamenilor.
Știu că este greu pentru foarte mulți unioniști să nu existe partide real unioniste în cursa electorală dar, trebuie să înțelegem cu toții că aceste alegeri nu sunt despre Unire. Aceste alegeri sunt exclusiv despre revenirea în forță a Rusiei pe Prut prin perpetuarea conducerii hibride Plahotniuc-Dodon. Unirea se poate promova nu doar din parlamentul Republicii Moldova. În final, noi unioniștii, trebuie să convingem talpa țării despre necesitatea unirii cu România, nu doar 101 de deputați.
Fac apel la toate partidele unioniste, la societatea civilă unionistă și la toți cei care cred în idealul unirii să nu pice în capcanele lui Dodon și Plahotniuc. Formațiunile unioniste care vor intra în cursa parlamentară, prin decuplarea câtorva procente de la blocul ACUM vor ajuta nu idealul Unirii dar PSRM-ul.
Blocul ACUM nu este unionist dar este pro-european și pledează pentru apropierea și colaborarea cu România. Este preferabil să avem la Chișinău un guvern pro-european ce militează pentru stat de drept, respectarea drepturilor omului, a valorilor și principiilor europene de cât să avem un parlament controlat de PSRM, în fapt controlat de Moscova.
PS: În această dimineață am primit de la Dorin Chirtoacă un mesaj prin care îmi solicita o întâlnire pentru "a discuta cele mai bune soluții pentru consolidarea votului unionist". Îi răspund public: Cea mai bună consolidarea a votului unionist o putem face la aceste alegeri în jurul blocului ACUM. Dacă este cineva care te-a trădat nu blocul ACUM este acela ci Mihai Ghimpu. Fă dovada că ești bărbat de stat și nu candida nici tu și nici PL la aceste alegeri. Dacă ești cinstit sufletește hai în satele Basarabiei să ducem flacăra unirii! Unirea se poate promova și fără să fim în parlamentul Republicii Moldova. Te sfătuiesc să nu intri într-o aventură electorală ce poate arunca Republica Moldova din nou în brațele Moscovei.
Plop Andrei/ Lucrarea de master/ – Rolul mass-media în reflectarea conflictelor geopolitice. Studiu de caz: Mass-media în Federaţia Rusă/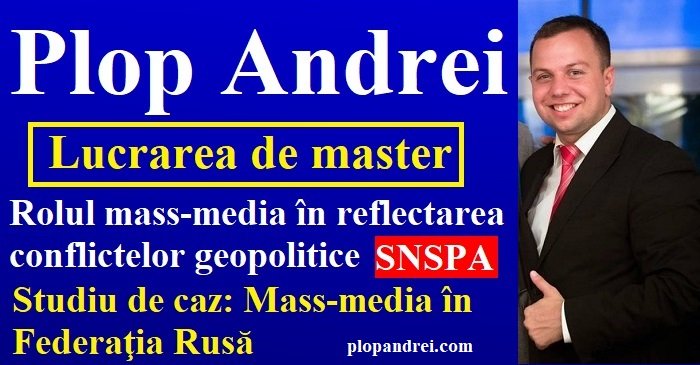 Plop Andrei: Update/ De ce are Moldova de o mobilizare generală și de o armată profesionistă! Maia Sandu este AGENTUL de influență al Kremlinului?!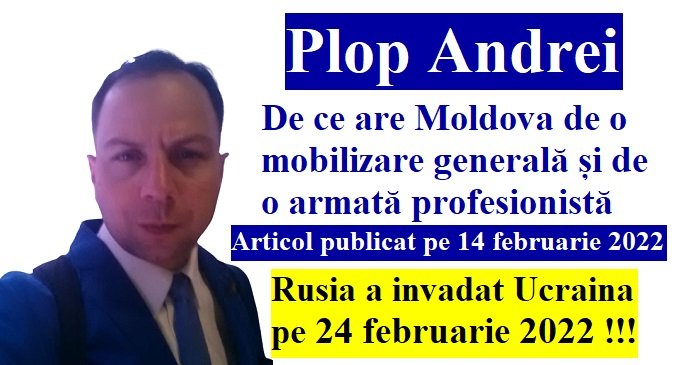 How to Stop Missing Deadlines? Follow our Facebook Page and Twitter !-Jobs, internships, scholarships, Conferences, Trainings are published every day!