APPLY FOR THIS OPPORTUNITY! Or, know someone who would be a perfect fit? Let them know! Share / Like / Tag a friend in a post or comment! To complete application process efficiently and successfully, you must read the Application Instructions carefully before/during application process.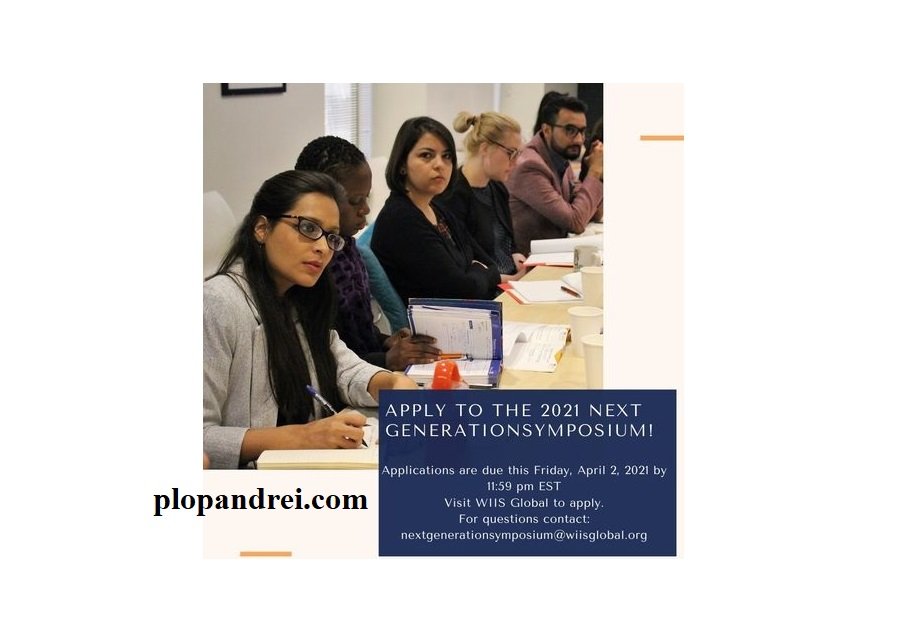 Women In International Security (WIIS) is pleased to open applications for the 2021 Next Generation Gender, Peace and Security (GPS) Symposium. The WIIS Next Generation Symposium (NGS) is a highly competitive and prestigious program. It is part of a larger WIIS initiative to bridge existing divides between the traditional security community and the Women, Peace and Security (WPS) community. Through this initiative, we seek to:
(1) advance knowledge about the gender dimensions of international security challenges; and
(2) support a community of national and international security experts that is both diverse and knowledgeable about the gender dynamics of national and international security challenges.
This will be the third Next Generation GPS Symposium. The first two were held in 2017 and 2019 (for more information, see the WIIS website). The 2021 symposium will convene an international cohort of 15 graduate students and young professionals for an unique virtual program examining national and international security challenges from a GPS perspective. The 2021 Symposium will devote particular attention to the nexus of gender and security in three areas: the environmental field, including climate change; terrorism and violent extremism; and emerging technologies, including cybersecurity.
The symposium is scheduled to take place virtually and will consist of: Research and writing presentations with detailed and focused feedback from senior experts and policymakers;
Skills-building workshops, including media-training workshop;
Participation in a mentor network and networking opportunities;
Participation in a Next Generation Alumni meeting, including a substantive workshop and public event;
Publication Outlets.
For this year's 2021 Symposium, 9-11 virtual meetings will be scheduled between June 2021 and March 2022.
Selected participants will become WIIS Next Generation Fellows and will be recognized as such on our website. In addition, WIIS Next Generation Fellows will receive complimentary memberships to WIIS, which entitles them to WIIS member benefits such as: access to publications, mentorship opportunities, and invitations to exclusive events and other networking opportunities, NGS 2021 Fellows will also join an exclusive mentorship and networking platform that connects them with former NGS Fellows.
In the year following the Symposium, Symposium participants are required to produce at least one blog post. Participants are also invited to submit (individual and/or joint) research and writing projects suitable for policy briefs and brief monographs. WIIS staff will work closely with participants to prepare manuscripts for publication. Publications will be widely distributed through the broad international WIIS network and partner networks.
How To Apply:
Candidates must provide the following application materials and information before April 2, 2021, 11:59 pm EST:
Completed application form
Resume
Biographical information
Letter of interest, which must clearly address the following:

Why the applicant is interested in participation in the symposium;
How the applicant's experience, education, and general background would contribute to the 2021 Next Generation Symposium (list 2-3 potential contributions);
A description of the applicant's research and writing interests; and
A specific explanation of how the symposium would enhance the applicant's future career goals.

Summary of a research or writing project the candidate would like to present in the Policy roundtable (Summary should be between 250-500 words maximum)
Eligibility:
Young professionals with an M.A. or higher academic degree; or graduate students currently enrolled in a Masters or Ph.D. program in international affairs, security studies, gender studies, anthropology, or a related discipline. (Recent graduates, as well as individuals who will be enrolled in a graduate program within the next academic year, will also be considered.)
Be between the ages of 25 and 40
Fluent in both spoken and written English
Available to participate (remotely) in all scheduled days of the symposium
All Genders are encouraged to apply
Two letters of reference submitted directly to WIIS at: NextGenerationSymposium@wiisglobal.org. References must include the applicant's name in the subject line.
All materials should be uploaded and submitted within the application form, excluding letters of reference. Incomplete or late applications will not be considered.
Applications are due by April 2, 2021 11:59 pm EST. Selected participants will receive formal notifications in early June 2021.
Symposium Schedule:
Symposium Schedule:
June 2021 Announcement of Selected Participants
August 2021 Introduction and General Discussion

2 hr Meeting of all Participants

September Roundtable – (2 hr)

Presentation of 3 Research and Writing Projects and Expert Commentary

October Roundtable – (2 hr)

Presentation of 3 Research and Writing Projects and Expert Commentary

November Media training

November 3 meetings with GPS Symposium Alumni

December Roundtable – (2 hr)

Presentation of 3 Research and Writing Projects and Expert Commentary

January Roundtable – (2 hr)

Presentation of 3 Research and Writing Projects and Expert Commentary

February Roundtable – (2 hr)

Presentation of 3 Research and Writing Projects and Expert Commentary

March Roundtable – (2 hr)

Presentation of 3 Research and Writing Projects and Expert Commentary

March/April Concluding meeting
WIIS is grateful to Carnegie Corporation of New York for its generous support of the 2021 GPS Symposium.Go to Application
For more information please open this link
https://www.wiisglobal.org/programs/2021-next-generation-gps-symposium/
How to Stop Missing Deadlines? Follow our Facebook Page and Twitter !-Jobs, internships, scholarships, Conferences, Trainings are published every day!