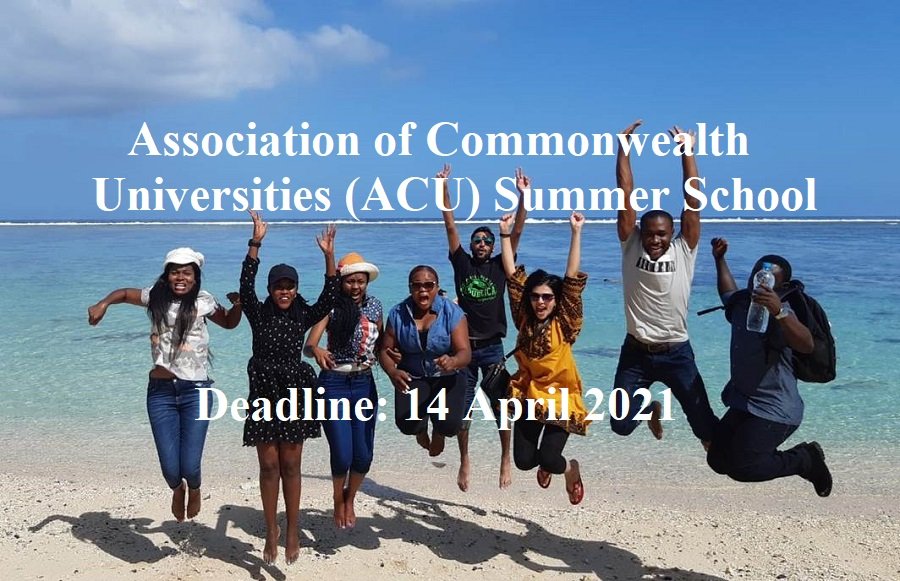 Urban disasters: Risk and resilience in a pandemic
Virtual event: 2-13 August 2021
Opening date: 16 March 2021
Closing date: 14 April 2021 at 16:00 UTC + 1
Applications for ACU Summer School 2021 are now open. Students at ACU member universities are invited to join us on 2-13 August for a two-week virtual event exploring the theme 'Urban disasters: Vulnerability and resilience in a pandemic'.
The ACU Summer School is a transformative opportunity which connects students across the Commonwealth. Participants can expect:
Talks by leading international speakers
Engaging and challenging group project work
Networking opportunities
Intercultural sessions
Skills development
The chance to learn about the history and culture of Mumbai.
Students often tell us that they find participating in the Summer School to be a life-changing event. Following the 2020 virtual Summer School, we asked students about their experiences:
95% of participants expressed that the summer school experience helped them develop new friendships across borders.
87% agreed that the experience helped improve their global network within their field of study.
'Taking part in the ACU Summer School has allowed me to meet other students with shared academic interests.'
– ACU Summer School 2020 participant Baimba O'Sheriff. Read his interview.
Who can apply?
In order to apply:
Participants must be a current postgraduate (Master's/PhD) or final-year undergraduate students at ACU member university .
Participants must not have previously travelled outside their home region or already participated in an ACU Summer School.
The event is multi-disciplinary: it is appropriate both for those studying fields related to disaster studies, and students from other fields who are interested in how they can apply their discipline to the theme.
The event
The Summer School programme has been developed by senior specialists from the School of Disaster Studies at Tata Institute of Social Sciences. It's a small and friendly event which is capped at 50 participants. Participants who do not have access to Wi-Fi will be able to apply for a grant to fund data costs needed for them to participate.
The event is free, but the 50 participants will be selected as part of a competitive selection process.
Read more about the theme.
How to apply
Complete an online application form. As part of the form, students must attach an academic reference from a lecturer at their current university and answer the following questions in 150-250 words each:
Explain how your academic studies and/or interests, achievements, work experience and volunteering experience fit with the theme of the summer school
Briefly describe a challenge related to the COVID-19 pandemic experienced by a town/city in your country and how the community responded
How could the subject that you are studying/researching contribute to addressing a challenge related to the COVID-19 pandemic, or future pandemics?
Explain how you plan to share and communicate the knowledge gained during the summer school
Closing date
Applications close at 16:00 UTC+1 Wednesday 14 April. Applicants will be contacted by the end of May.
Contact us
If you have a query which is not answered on this page, please email summerschool@acu.ac.uk
Programme
Date
Theme
Monday 2 August
Welcome day
Welcome Address
Introduction to the objectives of the programme
Icebreaker session – sharing our diversity
Keynote address
Cultural event
Tuesday 3 August
Urbanisation and development
Climate change, urban risks, and the sustainability challenge (South Asian context)
The paradox of cities
Group work
Wednesday 4 August
Key concepts and debates: Disaster, vulnerability, risk, resilience
The development debacle, global urbanisation challenges: The case of Mumbai City
Who are vulnerable? Understanding social exclusion in urban spaces
Group work
Thursday 5 August
International disaster response frameworks
Disasters beyond borders: International frameworks and policies
The role of the International Federation of Red Cross and Red Crescent Societies (IFRC)
Impact of COVID-19 on international policies
Friday 6 August
COVID-19 in urban areas across the world: How inequalities and vulnerabilities create social injustice
COVID-19 in Mumbai: What made Mumbai vulnerable?
Group work
Monday 9 August
Community resilience in the face of disasters
COVID-19 response in Mumbai – Community resilience in the face of disasters
Documenting a disaster
Group work: Collating stories of courage and resilience at the community level
Tuesday 10 August
Localisation in governance: How democracy ought to work
Localisation in the context of humanitarian aid: its significance and its practice by aid agencies
Localisation, accountability, and governance
Wednesday 11 August
Group work
Independent group work with the support of a mentor
Thursday 12 August
Group work
Independent group work with the support of a mentorReflective session
Friday 13 August
Farewell sessions
Group presentations
Cultural event
Closing session
Speakers
Professor Janki Andharia
Dean, School of Disaster Studies
Tata Institute of Social Sciences (TISS), India
Professor Andharia's areas of work focus on gender, environmental concerns, social planning, participatory development, and addressing diverse forms of marginalisation and vulnerability. She has participated in over 20 national disaster response activities and has worked closely in post-disaster relief and rehabilitation. Her current research work focuses on policy accountability to 'at-risk' populations. She has also successfully led several international missions to forge collaborations between TISS and other universities, and offered special lectures. Prominent among these is a partnership with the International Federation of the Red Cross and Red Crescent Societies, Geneva which now offers an on-line certificate course in disaster management with participants from over 90 countries enrolling.
Professor Amita Baviskar
Professor of Environmental Studies and Sociology and Anthropology
Head of the Department of Environmental Studies
Ashoka University, India

Professor Baviskar's research and teaching address the cultural politics of environment and development in rural and urban India. She is currently looking at the social experience of air pollution in Delhi. In January 2020, she published Uncivil City: Ecology, Equity and the Commons in Delhi. Professor Baviskar has been awarded the 2005 Malcolm Adiseshiah Award for Distinguished Contributions to Development Studies, the 2008 VKRV Rao Prize for Social Science Research, and the 2010 Infosys Prize for Social Sciences.
Dr Amita Bhide
Dean and Professor, School of Habitat Studies
Tata Institute of Social Sciences (TISS), India
Dr Amita Bhide is the Dean of the School of Habitat Studies at TISS. Her recent work explores issues of urban development, specifically those concerning urban transformations and their link to inclusive and sustainable development. Dr Bhide has extensively researched urban local governance and planning, water and sanitation, housing, and land issues. She is working to develop a theoretical and action model of urbanisation that is relevant for the global south through an engagement with several transformative groups at the city, provincial and national scales. The geographic focus of her work is Mumbai and most recently, small and medium towns.
Dr Basirat Oyalowo
Manager, Centre for Housing and Sustainable Development
University of Lagos, Nigeria
Dr Basirat Oyalowo specialises in housing studies, informality, urban sustainability and comparative African studies. Her recent research on Lagos includes housing supply and co-operatives societies (PhD), housing informality and inequality and COVID-19 adaptation strategies of residents of multi-tenanted housing. She consulted for the Lagos Resilience Strategy (2019) and later adopted a citizen-science approach to co-produce a Community Resilience Plan for an informal community (2020).
Professor Mark Pelling
Professor of Geography, King's Centre for Integrated Research on Risk and Resilience
King's College London, UK
Professor Mark Pelling has served as a coordinating lead author for the Intergovernmental Panel on Climate Change Sixth Assessment Report and the Special Report on Managing the Risks of Extreme Events and Disasters to Advance Climate Change Adaptation (SREX), and as lead author on its Fifth Assessment Report. He chairs the Centre for Integrated Research on Risk and Resilience, and is currently seconded for half his time to the United Kingdom Research and Innovation (UKRI) Global Challenges Research Fund as a Resilience Challenge Lead.
Dr Caroline Skinner
Senior Researcher, African Centre for Cities
University of Cape Town, South Africa
Dr Caroline Skinner is a Senior Researcher at the African Centre for Cities at the University of Cape Town, and Urban Research Director for the global policy research network Women in Informal Employment:  Globalizing and Organizing. For over two decades, Caroline's work has interrogated the informal economy and processes of informality. This is with a view to generate new knowledge and inform livelihood-centred policy and planning responses. She has a long track record of policy and advocacy work at a local, provincial, national and international level, and provides technical support for worker-based movements.
For more information please open this link
https://www.acu.ac.uk/funding-opportunities/for-students/grants/acu-summer-school/?fbclid=IwAR2PciLwnqhGLEbzMPHPqNFW-xf-KQJHBJ7FBBZEdCQtsZ6jcoaUFgjs7_0