APPLY FOR THIS OPPORTUNITY! Or, know someone who would be a perfect fit? Let them know! Share / Like / Tag a friend in a post or comment! To complete application process efficiently and successfully, you must read the Application Instructions carefully before/during application process.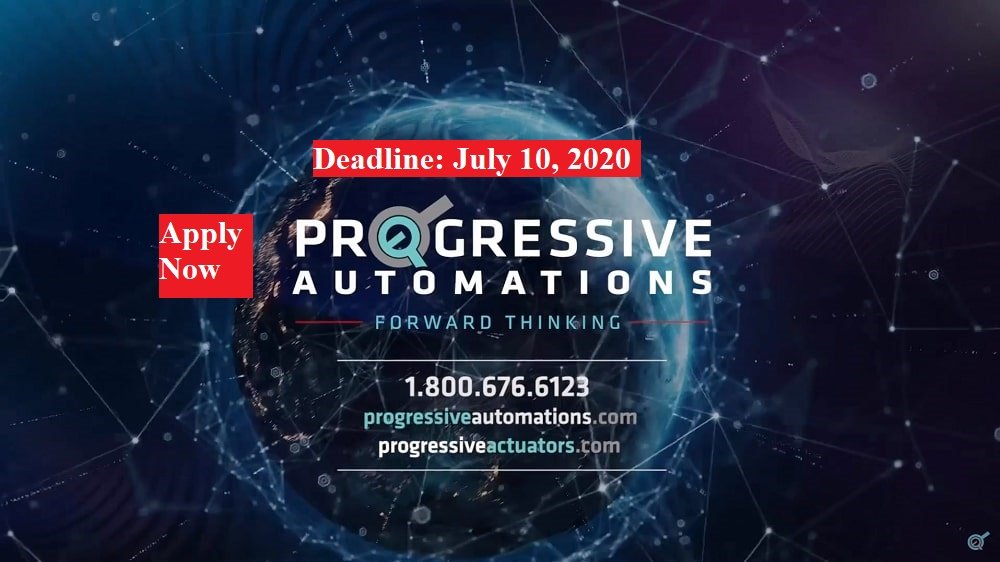 SCHOLARSHIP PROGRAM
Our goal is to promote education in the field of engineering and make it more accessible to young students.
Progressive Automations gives away $1,000 dollars each in scholarships to two engineering students each year.
REQUIREMENTS
1
Applicants must write a 1,000 word essay detailing why you think you're best suited for the scholarship. Let us know about your academic achievements, your drive to succeed as an engineer, your passion for the field, your personal achievements, your educational expectations for the future and what you think the next ten years of your professional life will look like.
2
Applicants must be enrolled for the September 2020 semester, full-time at a recognized, Canadian or American post-secondary college or university.
3
Applications must be enrolled at the undergraduate level in an engineering program.
4
Applicants must have Canadian or American citizenship.
5
Applicants must demonstrate high academic performance by submitting a copy of their high-school transcripts.
6
Applicants must demonstrate financial need and be eligible to receive financial aid.
7
You are not eligible if you have already received the award in a previous year.
APPLICATION.
If you meet the requirements and would like to pursue the scholarship you must fill out an application form and send it to us, along with the written essay and a copy of your high-school transcripts. The deadline to submit your appplication is July 10, 2020.
Application FormThese can be sent by email or by mail to:Progressive Automations, Inc.
160-6691 Elmbridge Way
Richmond, BC V7A 4N1
Canada
Phone: 1-800-676-6123
Email: sales@progressiveautomations.comAny questions about the application or the essay can be directed to social@progressiveautomations.com
FOR MORE INFORMATION PLEASE OPEN THIS LINK
https://www.progressiveautomations.com/pages/scholarship-program/
POPULAR POSTS
How to Stop Missing Deadlines? Follow our Facebook Page and Twitter !-Jobs, internships, scholarships, Conferences, Trainings are published every day!