APPLY FOR THIS OPPORTUNITY! Or, know someone who would be a perfect fit? Let them know! Share / Like / Tag a friend in a post or comment! To complete application process efficiently and successfully, you must read the Application Instructions carefully before/during application process.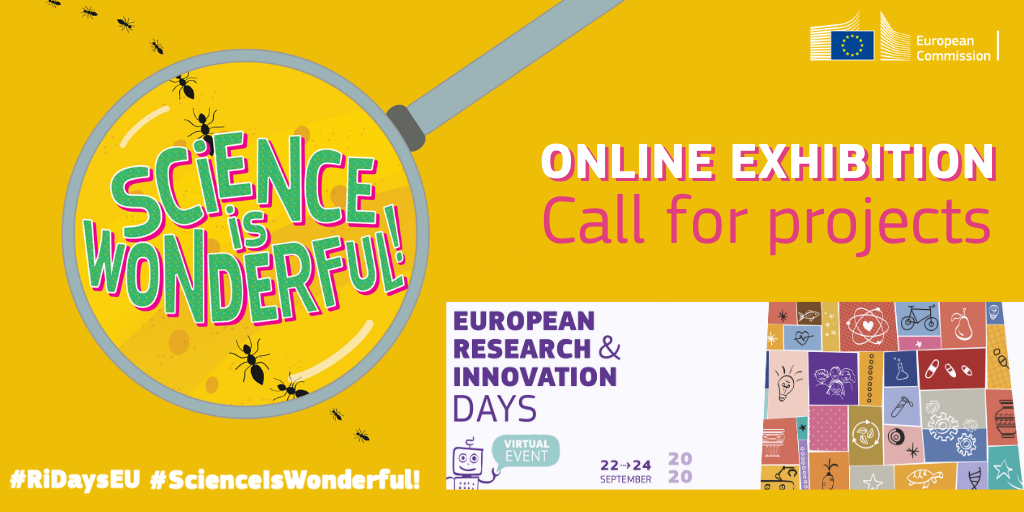 Science is Wonderful! – European Research and Innovation Days
22 – 24 September 2020
Online eventScience is Wonderful! brings the world of science, research and innovation to the public. This year, we are innovating and organising the exhibition fully online to reach out to more European citizens than ever. The event will take place from 22 to 24 September as part of the second edition of the European Research and Innovation Days, which will bring together policymakers, researchers, entrepreneurs and citizens online to debate and shape the future of research and innovation in Europe and beyond.
The exhibition will be organised through a dedicated online platform and will show, through an array of interactive digital activities, how EU-funded projects and researchers working in all disciplines are developing concrete solutions addressing the COVID-19 crisis and its consequences, as well as how they are addressing the political priorities that will be at the core of the recovery, notably the European Green Deal and the Horizon Europe missions.
How can we use this crisis to improve the way we live? How can our societies be more united, resilient and better prepared for future crises? How can we ensure a green recovery and transition after this crisis? Which changes should citizens, governments and businesses make in this context?
If you are ready to answer these questions (and many more), we encourage you to take part in this exciting opportunity and fill in this form before 6 July 2020. For this edition, we are looking for EU-funded and MSCA projects and researchers whose research is broadly linked to the following topics in all disciplines:
Topics relevant to the COVID-19 crisis and its aftermath where solutions are needed to ensure a sustainable, inclusive and resilient recovery, in areas such as preparedness and response, social behaviour, economy, digitalisation, environment, human rights, ethics, education, law, sustainable development, social innovation, public policies, etc.
The current COVID-19 emergency, in areas such as the development of diagnostics and treatments, public health, preparedness of health systems, modelling, etc.
Relevant projects with a high communication potential that have a connection with the crisis and the current political priorities of the European Commission, notably the European Green Deal and the five mission areas identified for Horizon Europe: cancer; climate change; healthy oceans, seas coastal and inland waters; climate-neutral and smart cities; as well as soil health and food.
The exhibition will be a unique opportunity to put your outreach and communication skills into action, be impactful and explain children, students and citizens what their and researchers' role is in the post-crisis context. In addition, this year the exhibition will also address hundreds of stakeholders from all over Europe in the framework of the European Research and Innovation Days, so you will be able to interact with them and draw their attention on your research.
For this online edition, we ask you to propose up to three online activitiesadapted to these different audiences in a language that they understand. We are aware that it will be a challenge to translate your technical terms and research into everyday words and concrete activities, but we will support you in preparing your online activities and participation and provide you with tips and tricks to bring your research online. Please note however that your activities will have to be performed from your working place, home or the place you choose, as the European Commission will not be able to support any travel or transportation of equipment.

Activities in all EU languages are very welcome and researchers speaking several languages are strongly encouraged to also propose activities in languages other than English.
If you are convinced that you are up to this exciting e-encounter with many fledgling future scientists, citizens and stakeholders, please fill in the application form below. An evaluation team will check and assess each application with a view to its feasibility, attractiveness for the different audiences, readiness, and make a final choice taking into account a balanced representation of research fields, nationalities, and gender. We will inform you by e-mail before 15 July 2020 whether your application was successful.
Please do note that due to the extraordinary circumstances of the ongoing pandemic, the exhibitions is subject to change if the conditions require so.
Should you have any questions, please do not hesitate to contact us.

Contact: EAC-MSCA-COMMUNICATION@ec.europa.eu
Processing of personal data

While filling in this application, you will be requested to provide some personal information for you and another contact person. The limited set of personal data requested and processed is necessary for the organisation of the event and the contact with the researchers to develop the activities proposed. The European Commission is committed to protecting your personal data and to respecting your privacy. Collection and processing of personal data is performed in accordance with Regulation (EU) 2018/1725[1]. Detailed information on the processing of your personal data in the context of this application are available in this specific privacy statement.
[1] Regulation (EU) 2018/1725 of the European Parliament and of the Council of 23 October 2018 on the protection of natural persons with regard to the processing of personal data by the Union institutions, bodies, offices and agencies and on the free movement of such data (repealing Regulation (EC) No 45/2001): https://eur-lex.europa.eu/legal-content/EN/TXT/?uri=CELEX%3A32018R1725
Specific Privacy Statement – Science is Winderful! 2020
Privacy_Statement_-_Science_is_Wonderful__2020.pdf
FOR MORE INFORMATION PLEASE OPEN THIS LINK
https://ec.europa.eu/eusurvey/runner/SIW2020*
POPULAR POSTS
How to Stop Missing Deadlines? Follow our Facebook Page and Twitter !-Jobs, internships, scholarships, Conferences, Trainings are published every day!