Audi has revealed its 2008 S5 coupe, which will be on display at the Geneva Motor Show alongside the new A5 coupe. Although final specs have not yet been disclosed, the S5 is widely expected to get the same 4.2-liter V8 as the S4, delivering 340 horsepower and 302 pound feet of torque.
Like all Audi "S" models, the S5 has sportier suspension, unique front and rear fascias, performance wheels and brakes, carbon fiber interior elements, and the choice of a six-speed manual or DSG gearbox.
Practicality and convention often dictate restraint in automotive design. Amongst the exclusive raw materials and months of calibrating and tweaking lies a passion for human propulsion. A passion that turns our inspired ideas into Audi cars. A passion cultivated in every corner of our being to produce such stunning examples of automotive ingenuity like the all-new Audi S5.
A performance coupe that speaks volumes about Audi's determination to build a true sport driver's car.
Dreams become lofty concepts. Lofty concepts turn into detailed sketches. Detailed sketches become exquisite models. Exquisite models become pure automotive sculptures. All proving that if we can dream it, we can build it. The result is a car where form blends harmoniously with function. When that function is raw power and clairvoyant handling, it's only natural the form be equally as titillating.
Exterior Design.
The flowing lines and aggressive stance stir the emotions and summons your passion for remarkable automotive design. Then it happens. You fall in love at first glance. Upon closer inspection, you begin to witness years of innovative design deceptively hidden behind a sleek, single frame grill, nestled behind the jeweled LED-styled tail lights and residing in every gleam of light emanating from the 18″ aluminum wheels.
It's a love affair that goes far beyond reason and propriety. The makings of which can only be described as true love.
Dimensions.
Wheelbase: 108.3″
Overall length: 182″
Overall width: 73″
Overall height: 54.1″
Interior Design.
A quick glance behind the sleek exterior curtain will open you to a world of Audi innovation and progressive interior design. 2+2 Coupe seating embraces driver and passenger while aluminum optic air vents supply 3-zone air conditioning to coddle the senses. An available MMI interface provides the driver with one-finger access to a symphony powered by a Bang & Olfusen sound system, a smarter navigation system and even the nearest 4-star hotel.
Decades of driver feedback and luxurious influence are to be found in every cabin detail and behind every smile on its occupants.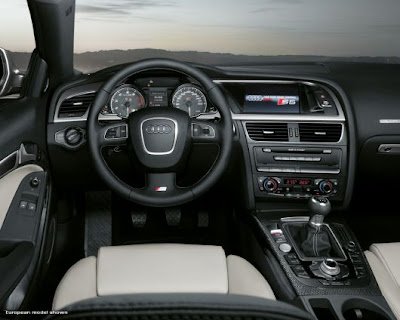 Engine.
The experience begins with a powerful V8 FSI engine, which boldly produces 354hp and 325lb-ft of torque. Meticulous weight-distribution allows the aggressive design to take full advantage of the dynamic engine characteristics.
Suspension.
To keep this unbridled power under complete control, we offer the predictable yet exhilarating handling dynamics of quattro® all-wheel drive. This proprietary handling technology offers an unparalleled sport-tuned suspension mated to progressive chassis design. A wide 108.3in wheelbase, the widest in the sport coupe segment, helps provide direct feedback to your most aggressive steering demands.
Transmission.
At the center of the Audi S5 is a 6-speed manual transmission to take advantage of the car's sporty handling and aggressive driving dynamics.
FSI®.
Since 2001, Audi has dominated with FSI® technology at Le Mans. This paid off with an unbroken string of victories until an Audi TDI engine picked up the baton in 2006. With FSI®, the fuel is injected directly into the combustion chamber, which in turn boosts combustion efficiency and engine performance.
Audi MMI.
Simple. Elegant. Intuitive. These words perfectly describe the innovative Audi MMI (Multi-Media Interface) system. The simple terminal distills advanced technology into a natural easy-to-use interface. MMI connects you with every advanced system of the Audi S5, making a remarkable vehicle an intuitive extension of yourself.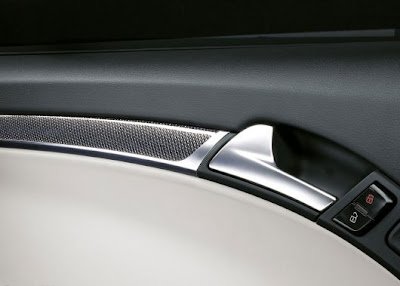 Advanced parking system.
Using ultrasonic sensors to measure distance, Parktronic emits an intermittent warning tone to indicate how far the car is from an obstacle. A rear view camera displays in your S5's MMI screen for even more sophistication and easier parking.
Bang & Olufsen® Sound System.
12-speaker sound system with 465 digitally amplified watts. Microphone-based noise compensation ensures optimum sound under varying road conditions and speeds.