The typical Porsche all-wheel-drive system with focused rear bias in this latest 911 version promises maximum vehicle dynamics on a wide variety of road surfaces and in all weather conditions.
Porsche Intelligent Performance: high levels of driving performance, low fuel consumption.
All new models have a seven-speed manual gearbox as standard, and the Porsche Doppelkupplung (PDK) seven-speed gearbox is available as an option.
The 911 Carrera 4S Cabriolet has a 3.8-liter rear-mounted boxer engine that produces 400 hp; this enables acceleration to 60 mph in 4.1 seconds and a top-track speed of 183 mph with a suitable equipment configuration. Fuel consumption values with PDK are EPA estimated at 19 mpg city and 26 mpg highway.
The most distinct identifying feature of the 911 with all-wheel drive is the wider rear section: compared to the two-wheel drive 911 Carrera models, the rear wheel housings each extend further outward by 22 mm for a total of 44 millimeters, and the rear tires are each ten millimeters wider. The traditional red light band that connects the two taillights on the 911 Carrera C4 has also taken on a new form.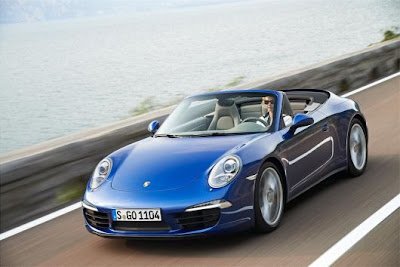 New: all-wheel drive indicator, Porsche Active Safe (PAS).
In the new 911 Carrera 4, an additional menu in the instrument cluster informs the driver how the PTM all-wheel drive is currently distributing engine power. In addition, with the debut of the 911 Carrera all-wheel-drive models Porsche is making the optional Adaptive Cruise Control (ACC) available to the entire model range, which controls distance to traffic ahead and vehicle speed. When ordered with PDK, the ACC system adds the safety function Porsche Active Safe (PAS), which helps to prevent front-end collisions.
World premiere at the Paris International Motor Show.
The new Porsche 911 Carrera with all-wheel-drive will make its first public appearance at the 2012 Paris International Motor Show September 29, 2012. The Cabriolet will have a base MSRP of $117,530.