APPLY FOR THIS OPPORTUNITY! Or, know someone who would be a perfect fit? Let them know! Share / Like / Tag a friend in a post or comment! To complete application process efficiently and successfully, you must read the Application Instructions carefully before/during application process.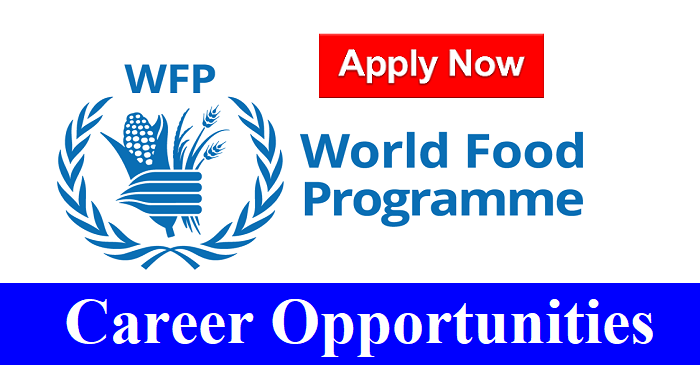 WFP celebrates and embraces diversity. It is committed to the principle of equal employment opportunity for all its employees and encourages qualified candidates to apply irrespective of race, colour, national origin, ethnic or social background, genetic information, gender, gender identity and/or expression, sexual orientation, religion or belief, HIV status or disability.
Do you have experience in inter-agency coordination and civil-military coordination and you are interested in further developing your professional experience while contributing to ending global hunger? Are you passionate about helping those in need? Would you like to join a global organisation investing in its people?
If so, an exciting & fulfilling career awaits you!!! Join our diverse and passionate team that works on varied and international projects directly contributing to saving & changing millions of lives around the globe.
DEADLINE FOR APPLICATIONS
Deadline to apply for this position is Friday, October14th 2022 (17:59 EDT).
WHO WE ARE
The United Nations World Food Programme (WFP) , a highly prestigious, reputable & world's largest humanitarian organization, operating in more than 120 countries and territories, bringing life-saving assistance in emergencies, building pathways to peace, stability and prosperity for people recovering from conflict, disasters and the impact of climate change and supporting sustainable and resilient livelihoods for a world with zero hunger.
At WFP, people are at the heart of everything we do and the vision of the future WFP workforce is one of diverse, committed, skilled, and high performing teams, selected on merit, operating in a healthy and inclusive work environment, living WFP's values (Integrity, Collaboration, Commitment, Humanity, and Inclusion) and working with partners to save and change the lives of those WFP serves.
To learn more about WFP, visit our website: https://www.wfp.org/ and follow us on social media to keep up with our latest news: YouTube, LinkedIn, Instagram, Facebook, Twitter.
WHY JOIN US?
WFP is a 2020 Nobel Peace Prize Laureate
WFP offers a highly inclusive, diverse and multicultural working environment
WFP invests in the personal & professional development of its employees through a range of trainings, accreditation, coaching, mentorship and other programs as well as through internal mobility opportunities
A career path in WFP provides an exciting opportunity to work across various country, regional and global offices around the world, and with passionate colleagues who work tirelessly to ensure that effective humanitarian assistance reaches millions of people across the globe
We offer attractive compensation package (please refer to Terms and Conditions section)
ORGANIZATIONAL CONTEXT
The position is based in Geneva, Switzerland and reports to Deputy Director of the Emergency Division.
THE ROLE
WFP Emergency Division is – in consultation and coordination with the WFP Geneva Office – establishing a time-bound presence in the WFP Geneva Office to Augment WFP's capacity to leverage engagement with the operations-focused components of the UN System, and other relevant multi-lateral institutions based in Geneva, to support of WFP's emergency response operations (with a focus on, but not limited to Civil-Military Coordination); Facilitate the evolution of WFP's emergency response capacities in order effectively address immerging operational gaps and needs in complex environments through enhanced engagement with other humanitarian actors based in Geneva; Serving as a real-time conduit between WFP emergency response operations and the relevant Geneva-based stakeholders to inform and shape internal and external strategic discussions, in consultation and coordination with the WFP Geneva Office.
KEY ACCOUNTABILITIES (not all-inclusive)
Reinforce WFP's position as a partner of choice for operational support to UN and/or HCT members in complex response environments; including for Civil-Military Coordination, and strategic engagement with relevant initiatives of UNOCHA and the UN Secretariat.
Provide additional technical support to the Geneva Office in their efforts to ensure that WFP's corporate approach to operational engagement is aligned with wider UN strategies, normative frameworks, and processes.
In support of the on-going work of the Geneva Office, advance WFP's role in key areas of specialization; and position WFP effectively vis-à-vis relevant decision makers and influencers involved with Geneva-based operational support fora, identifying critical and relevant engagements through:
Establishing, leading or facilitating bilateral and/or multilateral meetings on UN-CMCoord matters at a strategic level with UN Humanitarian Agencies/Funds/Programmes or other appropriate entities as required;
Representing WFP as a co-lead for critical UN and other multilateral initiatives in Geneva related to enabling operations in complex environments; and
Representing WFP as a participant in other working groups, meetings, and consultations focused on enabling operations in complex environments, to ensure WFP Emergency Division (and other key internal stakeholders) is aware of these discussions and WFP's role and mandate are respected;
Develop and provide guidance on WFP's emergency response strategies to broaden WFP's influence within the UN Secretariat, relevant UN Member State delegations and/or representatives as well as other organizations at the Geneva/Headquarters level.
Build and maintain a network for bilateral and multilateral collaboration with key emergency response stakeholders in the UN and broader humanitarian system, to influence the development of system-wide policies in relation to UN reform and other change initiatives; working to ensure WFP operational priorities and concerns are highlighted and addressed in support of the on-going work of WFP's Emergency Division. Including, but not limited to:
Support on-going efforts related to OPAG Task Force 3 (TF3) on Preserving Humanitarian Space to address system-wide issues and enhance operational response. This includes support to other similar inter-agency workstreams where potentially beneficial to WFP.
Support on-going efforts related to OPAG Results Group 3 (RG3) on the impact of counter terrorism measures, criminalizing humanitarian, and engagement with non-state armed groups. This includes support to other similar inter-agency workstreams where potentially beneficial to WFP
Support and reinforce effective working relationships and dialogue with humanitarian actors, UN agencies, and particularly other actors engaged in humanitarian civil-military coordination at the strategic level.
Enhance the understanding of WFP and the broader humanitarian community's role and operational modalities among military forces, operational donor elements and other civil-military stakeholders at strategic level to further WFP operational acceptance, access, and security.
Act as the primary WFP Civ-Mil Representative at strategic level for all partners and stakeholders in Northern/Central Europe (including, NATO SHAPE/HQ, EU Military Staff, FDCO Civ-Mil Unit, ICRC, OCHA CMCs) for operational matters.
Lead WFP's global efforts to advance and evolve the Humanitarian Notification Systems for Deconfliction with interagency stakeholders.
Strengthen the Emergency Division's internal understanding of core interagency/international principles, frameworks and norms related to principled interaction in complex response environments.
Perform other related duties as required.
STANDARD MINIMUM QUALIFICATIONS
Education:

Advanced university degree in one or more of the following disciplines: International Relations, Peace and Conflict Studies, Political and/or Social Sciences, Development or Economics, Business Administration or Management.

OCHA CMCoord training is an advantage.

Experience:
A minimum of 11 years of postgraduate, progressively responsible professional experience in: government and donor relations, inter-agency coordination, public policy, civil-military coordination, logistics, or other operations support functions; including experience at strategic and operational levels, working with global partnerships/initiatives and in emergency response operations (both natural disaster and complex environments); including a background working with established inter-agency emergency response coordination mechanisms (i.e. Cluster Approach, UN CMCoord, Inter-Agency Access Working Groups, etcetera) and WFP's main institutional donors; including responsibility for recruitment, oversight and management of personnel.
Language:
Fluency (level C) in English language. Intermediate knowledge (level B) of a second official UN language: Arabic, Chinese, French, Russian, Spanish, and/or Portuguese (a WFP working language) is desirable.
MORE ABOUT YOU
Strongly motivated by humanitarian work;
          Understanding of the nature of humanitarian operations and the contemporary response environment, as well as emerging trends and their implications for humanitarian action;
          Resourcefulness, initiative, maturity of judgement, tact, negotiating skills;
          Familiarity with and experience in the application of civil-military coordination;
          Demonstrated ability to assimilate and analyze complex issues to develop strategies and policies.
WFP LEADERSHIP FRAMEWORK
These are the common standards of behaviour that guide HOW we work together to accomplish our mission.
Leads by Example with Integrity – Lives the WFP values and shows humanity and integrity by role modelling care for others
Drives Results and Delivers on Commitments – Delivers on commitments and adapts readily to change
Fosters Inclusive and Collaborative Teamwork – Is inclusive and collaborative, and contributes to a culture of learning and personal growth
Applies Strategic Thinking – Demonstrates commitment to gather perspectives, analyse options and risks, and propose new ways of doing things
Builds and Maintains Sustainable Partnerships – Builds and nurtures  external partnerships and collaborates with partners to deliver common objectives
Different expectations of behaviour are defined depending on your grade and role/responsibilities within WFP.
TERMS AND CONDITIONS
This is an International Professional position and is open to all nationalities.
Limited Fixed-Term Appointment (LFT) position is a non-mobile staff appointment in the international professional category for a limited period for up to 4 years (initially 2 years with possibility to extend to additional 2 years). The position is based in Geneva, Switzerland and the selected candidate will be expected to relocate. Incumbents of LFT positions are not eligible to apply for other mobile positions advertised internally through the Reassignment.
WFP offers an attractive compensation and benefits package in line with ICSC standards including basic salary, post adjustment, relocation entitlement, visa, travel and shipment allowances, 30 days' annual leave, home leave, an education grant for dependent children, a pension plan, and medical insurance.
REMINDERS BEFORE YOU SUBMIT YOUR APPLICATION
We strongly recommend that your profile is accurate, complete and includes your employment records, academic qualifications, language skills and UN Grade (if applicable)
Once your profile is completed, please apply, and submit your application
Please make sure you upload your professional CV in the English language
Kindly note the only documents you will need to submit at this time are your CV and Cover Letter
Additional documents such as passport, recommendation letters, academic certificates, etc. may potentially be requested at a future time
Please contact us at wfprecruitment@wfp.org in case you face any challenges with submitting your application
Only shortlisted candidates will be notified
.
WFP has a zero-tolerance approach to conduct such as fraud, sexual exploitation and abuse, sexual harassment, abuse of authority and discrimination. All selected candidates will be expected to adhere to WFP's standards of conduct and will therefore undergo rigorous background verification internally or through third parties. Selected candidates will also be required to provide additional information as part of the verification exercise. Misrepresentation of information provided during the recruitment process may lead to disqualification or termination of employment
WFP will not request payment at any stage of the recruitment process including at the offer stage. Any requests for payment should be refused and reported to local law enforcement authorities for appropriate action.
For more information please open this link
Apply Here
https://career012.successfactors.eu/career?career%5fns=job%5flisting&company=C0000168410P&navBarLevel=JOB%5fSEARCH&rcm%5fsite%5flocale=en%5fGB&career_job_req_id=174423&selected_lang=en_GB&jobAlertController_jobAlertId=&jobAlertController_jobAlertName=&bro
How to Stop Missing Deadlines? Follow our Facebook Page and Twitter !-Jobs, internships, scholarships, Conferences, Trainings are published every day!