APPLY FOR THIS OPPORTUNITY! Or, know someone who would be a perfect fit? Let them know! Share / Like / Tag a friend in a post or comment! To complete application process efficiently and successfully, you must read the Application Instructions carefully before/during application process.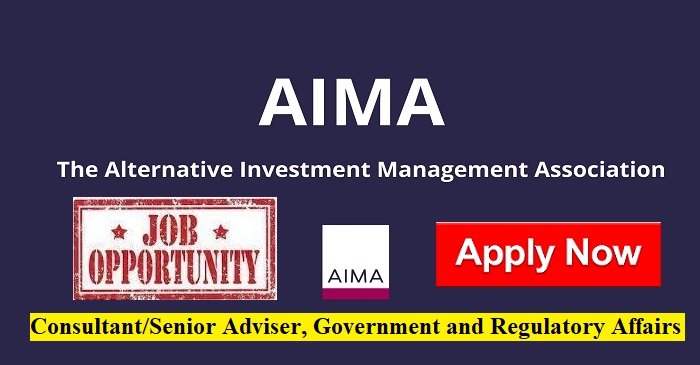 Role, title and compensation dependent on experience
AIMA is currently seeking an experienced EU policy and regulatory consultant to be a professional adviser for our Government and Regulatory Affairs Department. The role will focus primarily on EU legislative work affecting alternative investment managers, and the market environment they operate in including, but not limited to, developments related to AIFMD, UCITS, MiFID/MiFIR, Short Selling Regulation, sustainable finance, IFR/D, market abuse and AML, the European Capital Market Union package, market structure and infrastructure regulations, tax and private credit regulations such as loan funds or policy decisions related to non-bank lending.
The person carrying out the role will have to help convey AIMA's position on legislative work being conducted in Brussels as well as contribute to further develop and consolidate AIMA's presence and network in Brussels. The person will also be expected to work very closely with other technical specialists on the AIMA team and liaise with members, EU institutions, national competent authorities and Member States. Once in the role, the person will also be required to take on substantive responsibility for certain files on a day-to-day basis, although the number and identity of the files will be dependent on the successful candidate's skill sets, interests and the overall spread of work across the AIMA team.
The role includes responsibility for:
Monitoring EU legislative and regulatory developments
Contribute to AIMA's engagement and advocacy strategy in the EU
Preparing updates and analysis for AIMA members
Running working groups of AIMA members to develop a position on proposals from regulators
Drafting responses to regulatory consultations
Developing AIMA's network in Brussels among EU institutions, other trade associations and market participants
Responding promptly to members' queries and requests on EU regulations issues
Designing and participating/speaking in AIMA events.
Required skills and experience include:
Adequate experience to operate with a high level of autonomy and initiative
Knowledge of financial services regulation and/or the hedge fund/private credit industry. We are interested in hearing from candidates with expertise in one or more of the following: AIFMD, UCITS, MiFID, short selling, EMIR, sustainable finance
Ability to track EU legislative developments efficiently and to set out AIMA's positioning on relevant topics clearly and accurately publicly and in private meetings
Proven experience gained in government or regulatory agencies, or other appropriate experience in the asset management industry or in a law firm (minimum 5 years)
Excellent writing and editing skills in English
Excellent command of another EU language would be a plus (writing and editing)
Good organisational and project management skills
Good research skills
The ability to communicate effectively with both regulatory representatives and members
The ability to absorb and organise substantial amounts of both general and detailed information and to disseminate and 'distil' it in a manner readily accessible to AIMA members and in good English
Attention to detail, diligence, accuracy and thoroughness in the written and spoken word
The ability to adapt to and fit in with AIMA culture
A 'can do' attitude – including a willingness to tackle a broad range of work and to work enthusiastically and happily within a small team in a small office
The ability to work under pressure and to represent the association professionally.
This is an excellent opportunity for you to take the next step in your career and join this growing international trade body with an excellent reputation globally. We are committed to helping you to achieve your professional goals.
You must be eligible to work in Belgium.
How to apply:
Please send your CV together with compensation expectations to Jane Moran, Co-ordinator, Government Affairs, at jmoran@aima.org.
NO AGENCIES
About AIMA
AIMA is a membership organisation for the alternative investment industry (including hedge funds and private credit funds); we exist to serve the interests of hundreds of firms around the world who have signed up as members of AIMA and who pay us a membership fee in respect of the services we provide to them. Headquartered in London, AIMA services approximately 2,000 corporate members in over 50 countries. AIMA is the leading industry advocate, maintaining close dialogue with national and supranational policy making institutions, governments and regulatory agencies, providing responses to important regulatory and tax consultations and developing sound practices and industry guidance for our members. It has also established the Alternative Credit Council (ACC), which is an association within AIMA devoted to representing the private credit industry, with a view to securing sustainable development of the sector. We are the leading global trade association representing the interests of the private credit and non-bank finance participants in asset management.
For more information please open this link
Apply Here
https://www.aima.org/about/opportunities-at-aima/consultant-senior-adviser-brussels.html
How to Stop Missing Deadlines? Follow our Facebook Page and Twitter !-Jobs, internships, scholarships, Conferences, Trainings are published every day!