APPLY FOR THIS OPPORTUNITY! Or, know someone who would be a perfect fit? Let them know! Share / Like / Tag a friend in a post or comment! To complete application process efficiently and successfully, you must read the Application Instructions carefully before/during application process.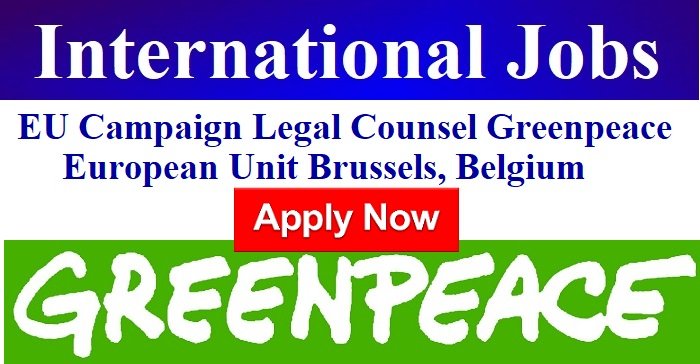 Greenpeace is recruiting an
EU CAMPAIGN LEGAL COUNSEL
To work with our European Unit in Brussels
You are a lawyer with at least 3 years' relevant professional experience. You are also a committed environmentalist eager to stimulate fundamental change. You are passionate about EU law but you think its best chapter is yet to be written. You have the skills, the determination, the ambition and the courage to help write this chapter, together with a global community of environmental campaigners, activists and supporters.
If this sounds like you, then we would like you to join the team at Greenpeace European Unit in the role of EU Campaign Legal Counsel.
Permanent position.
Location
The successful candidate will be based at Greenpeace European Unit in Brussels, or in any other Greenpeace office within the EU, subject to agreement. We offer competitive NGO level salary and benefits, the specifics of which depend on the location that you choose. For the initial two months, you would be working in the European Unit office, and if you chose to be based outside Brussels thereafter we would expect you to come to Brussels occasionally as required.
Main purpose of the job
We seek an EU Campaign Legal Counsel to provide in-house legal assistance and support to Greenpeace campaigns at EU level.
Under the supervision and direction of the EU Senior Legal Strategist, and in coordination with other legal counsels (internal or external) and colleagues in Greenpeace offices, the EU Campaign Legal Counsel will help Greenpeace to promote systemic change and to advance EU campaign objectives. You will do this with high-quality legal analysis, accurate factual drafting and the capacity to put the two together to influence EU law and politics, before political institutions or EU and national courts.
Success is dependent on your capacity to provide strategic legal advice to campaign teams across Europe and to formulate and implement legal strategies that achieve policy change.
In this role you will:
Maintain and acquire knowledge of the EU legal and policy environment and ensure that Greenpeace is aware of and can respond effectively to specific legal opportunities and threats.
Influence EU (and, when required, international) law relevant to Greenpeace's European and global objectives.
Identify opportunities and develop strategies to advance EU policy objectives through legal tools.
Develop and advocate Greenpeace positions with the aim of influencing EU law and policy.
Monitor and analyze relevant EU and global legal, legislative and political developments.
Advise and support Greenpeace colleagues on the legal aspects of EU-related work.
When needed, prepare/check Greenpeace publications to ensure consistent and accurate external communication on EU issues.
Suggest to the EU communications team media stories or communications ideas.
What we offer
Work within a dynamic and successful international political campaigning organization committed to systemic change
Experience a stimulating political and campaigning environment and expand your skills and knowledge.
Join the friendly and supportive team in our Brussels office, and work with a network of colleagues and offices across Europe and globally.
Actively contribute to the protection of nature and to political change in Europe.
Relevant Skills and Experience:
Essential
A degree in law from an EU university (or EEA, UK) and a master's degree (or equivalent) in EU law.
Three years of work experience as legal advisor or assistant in a law firm, in an EU or national administration or in an EU or national court. The completion of the legal professional traineeship required to access the profession of lawyer in certain EU or EEA Member States or in the UK will be considered as relevant.
Admission to, and good standing with, a bar or law society recognized in an EU or EEA country or in the UK.
Fluency in legal analysis and proven ability to draft legal texts and briefings in English.
Fluency (written and spoken) in a second EU language.
Knowledge of EU institutions, their decision-making process and the broader European political environment.
Knowledge of constitutional principles of EU law, free-movement and competition rules and rules and principles governing EU access to courts.
Knowledge of basic sectoral EU legislation in at least one of these fields: environment, climate, energy, agriculture, pesticides and chemicals, transport, international trade, justice and home affairs.
Understanding of the roles that science, politics, economics, industry, media and societal change play in policy-making.
Knowledge of and/or experience in litigation (including of the functioning of the civil and administrative judicial system in at least one EU member state).
Knowledge of, and commitment to, the basic principles of legal professional ethics.
Knowledge and/or experience in effectively dealing with confrontational situations (e.g. political debates, …).
Effective written and oral communication skills.
Ability to manage own time, multiple concurrent projects and to meet deadlines.
Attention to detail.
Commitment to environmental protection and Greenpeace values.
Desirable

Three to five years of post-qualification work experience in a law firm or in-house legal department.
Knowledge of international law.
Experience in advocacy or lobbying.
Public speaking skills.
Person Specification
Greenpeace staff are ambitious, single-minded in the pursuit of agreed campaign objectives, long term planners and strategic thinkers. We work under constant time constraints and permanent public scrutiny.  The ability to deliver accurate and timely work is key. Externally, our qualifications, experience and global mindset equip us to excel in analyzing political opportunities and risks and to devise and communicate strategies to change policies and political mindsets. Internally we form effective relationships with colleagues, share knowledge and information freely and build and maintain a supportive, caring, and stimulating work environment.
Application information
Please email your application in English to european.unit@greenpeace.org and address it to Jorgo Riss. Please write EU Legal Counsel in the subject line, as well as your name and surname. Please include:
A CV of maximum two pages (no photo, please)
A cover letter of no more than one page outlining why you are interested in the job and why you are qualified for it;
An essay of at least 500 and no more than 800 words on the following issue:
"Access to justice on environmental matters: strengths and weaknesses of the EU acquis and impact on the Union's lawmaking".
Deadline for applications: 11 September 23.59 (Brussels time)
Expected starting date: February 2023, or sooner if possible
The first round of interviews will be held in person or via zoom in the last week of September 2022.
Please read the requirements for the job carefully and follow the application instructions. We will automatically exclude applications that are incomplete or do not meet the specified requirements.
Greenpeace is committed to equal opportunities and diversity. We encourage applications from anyone who believes they fit the essential requirements for the job, irrespective of: race/ethnicity; religion/belief; disability; sex, gender identity or sexual orientation; pregnancy, marital or parental status; and age.
We value gender equality and gender balance in our team, and particularly encourage applications from women.
Please note that due to the considerable number of applications we receive, we will only be able to contact candidates we have short-listed for interviews. If you have not heard from us by 23 September, please assume that your application has not been successful. We thank you for your understanding.
Greenpeace is an independent global campaigning organisation that acts to change attitudes and behaviour, to defend nature and to promote peace. We do not accept donations from governments, the EU, businesses or political parties.
For more information please open this link
Apply Here
https://www.greenpeace.org/eu-unit/work-with-us/
How to Stop Missing Deadlines? Follow our Facebook Page and Twitter !-Jobs, internships, scholarships, Conferences, Trainings are published every day!