APPLY FOR THIS OPPORTUNITY! Or, know someone who would be a perfect fit? Let them know! Share / Like / Tag a friend in a post or comment! To complete application process efficiently and successfully, you must read the Application Instructions carefully before/during application process.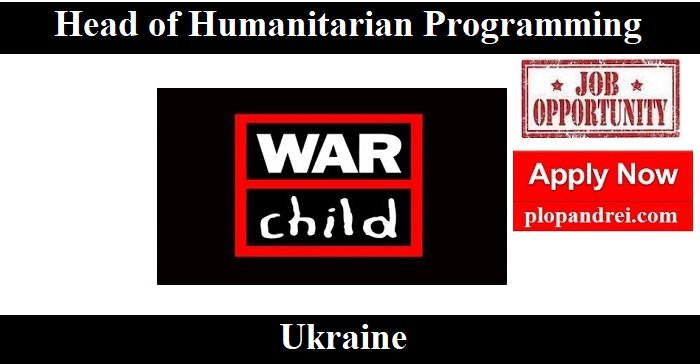 HEAD OF HUMANITARIAN PROGRAMMING
"A dedicated and dynamic head of humanitarian programming with excellent hands-on experience in leading humanitarian responses and humanitarian functions within organisations, and working with multiple stakeholders in humanitarian affairs"
Background
War Child's Humanitarian Response aims to reach more children quickly in 'real' time humanitarian settings, when their lives are torn apart and when they need our support most. We intend that our humanitarian work is undertaken primarily through partnerships, innovation and technology, and we aim to transform War Child's collective capability to be a quick, effective and principled humanitarian agency. Since 2019 we have developed a framework and tools to advance our humanitarian capability, with a focus on our existing niche areas, i.e. Child Protection, Education, Mental Health and Psychosocial Support and Youth Engagement, while complimenting it with relevant and context specific activities. During COVID-19 and several other crises in 2020 and 2021, we strengthened our humanitarian response and organizational readiness work. Such an organic step involving actions BEFORE (Preparedness and resilience), DURING (humanitarian assistance) and AFTER (resilience and preparedness) helped to improve our Impact, Influence, Identity and Income.
War Child is currently providing emergency support to children and families affected by the war in Ukraine. Initially, War Child worked with partners in Moldova and Romania to assist them respond to the refugee influx from Ukraine during the first few weeks of the war. As many Ukrainian refugees either dispersed to other countries or returned to Ukraine, War Child now plans to shift its main focus to working with partners inside Ukraine. We aim to support partners who are assisting displaced children and families within the country, as well as those who are affected by the war in their home communities. An important next step will be the development of a strategy, programmes and partnerships to assist war-affected children within Ukraine.
Your Challenge
You are a dedicated and dynamic head of humanitarian programming with excellent hands-on experience in leading humanitarian responses and humanitarian functions within organisations, and working with multiple stakeholders in humanitarian affairs.
You will lead the joint humanitarian function for both War Child Holland and War Child UK and be responsible for leading the further development of War Child's humanitarian policies, strategies and framework for humanitarian action, in consultation with War Child colleagues in country, regional and headquarters offices.
In close coordination with Country Directors, and based on assessments, you will recommend whether and how War Child should respond to humanitarian emergencies, and you will have authority to direct the nature, scale and methodologies for response within agreed overall parameters.
You will be expected to lead the first phase/scale-up of certain War Child emergency responses as necessary including leading the emergency response team on the ground. At this time, the priority focus is on leading War Child's humanitarian response to the Ukraine crisis. You will report directly to one of the Directors International Programmes in either War Child Holland or UK and will work closely within both organisations to fulfil the role.
Your Responsibilities
Lead the further development of War Child's humanitarian policies, strategies and framework for humanitarian action.
Review and keep up to date War Child's policies, strategies, procedures and methodologies for humanitarian action – based on: humanitarian values, principles and standards; priorities set out in War Child's organizational strategy; as well as learning from our previous humanitarian work
Consult with War Child colleagues in country, regional and headquarters offices to understand perspectives on our humanitarian work
Engage in the external humanitarian sector to keep updated on broader sector developments and to contribute within policy forums
Ensure that War Child systematically learns from our experience in humanitarian work
Improving the speed, coverage, focus and quality of real-time humanitarian assistance (including, but not limited to emergency management).
Supporting country offices and partner organisations by providing guidance, training and advice to War Child offices, staff and partners on policies, strategies and framework for humanitarian action
Managing War Child's Emergency Start-Up Funds, a key catalyst to strengthen our humanitarian work
Building the interest, confidence, and capacity of the country, regional and headquarters offices to take up humanitarian work and embrace change; ensuring that War Child offices understand expectations for engagement in and impact of our humanitarian work
Recognize the need for more hands-on humanitarian leadership, management, and operational capacities on the ground for longer and sustained periods in real-time settings
Building partnerships
Lead and manage War Child's (Ukraine) emergency response programme development and coordination with partners. Responding to the Ukraine crisis is a current high priority, but responding to other humanitarian crises in the future will emerge as well.
Work directly with partners (in Ukraine or potentially elsewhere in the future) to coordinate, develop and implement a response relevant to their needs and capacities
Develop an updated plan for the medium-term response in Ukraine. Ensure that the response has clear impact goals and targets, and make programme, partnership and funding allocation decisions, after consultation with relevant internal & external stakeholders
Internal humanitarian leadership, coordination & management
Authority to direct the nature, scale and methodologies for humanitarian responses within overall parameters decided upon by the Directors of International Programmes
Establish clear structures and procedures for decision making related to humanitarian responses involving country, regional and headquarters management as appropriate
Act as the focal point for internal stakeholders on coordination of emergency responses and coordination of information with internal stakeholders
Recruit and manage War Child's Emergency Response Team, as may be needed and depending on allocations of budget
Work closely with War Child's humanitarian information management focal points to finetune reporting and information management procedures and regular coordination meetings (including SitReps, Virtual Operations Room, etc)
Work closely with Communications & Advocacy managers to review and sign off on materials for War Child's communication to donors and other external audiences
Work closely with the global operations team (logistics, finance and human resources) to ensure their support is aligned with the emergency response program/approach
External coordination
Engage with local partners, international humanitarian organisations, global humanitarian policy and coordination forums, and other stakeholders relevant to the thematic and geographic scope of War Child's developing humanitarian work
Support partners in their humanitarian coordination roles as relevant
Act as War Child's focal point for communications and advocacy purposes, for example interviews with media
Collaborative work with War Child's advocacy and communications teams to strengthen War Child's humanitarian positioning, profile and reputation
Collaborative work with War Child's Child Protection, Education, MHPSS, Youth, CWTL, Team UP and the Research Team to support niche areas if relevant in contexts
Networking, platform, and partnership building and membership in relevant humanitarian initiatives / multi-agency initiatives
Your Profile
Bachelor's degree in international development, humanitarian affairs, social science or work, health, business management, communication, or other relevant field
At least 5 years of hands-on experience in managing humanitarian responses on the ground
At least 3 years of experience developing and coordinating humanitarian responseprogrammes (including planning, programming, partnerships and budgeting)
Experience developing and managing organisational humanitarian capability
Team leadership and management experience
Previous experience working with civil society organisations/ international NGOs
Commitment to strengthening local leadership of humanitarian work, including nurturing partnerships with local partners and building on their existing capacities
Strong skills in planning, budget management, programme implementation, and MEAL
Ability to understand and manage the information needs and expectations of multipleinternal & external stakeholders and provide information management, reporting, and decision making in changeable emergency situations
Pragmatic with a flexible approach and an ability to get things done while demonstrating empathy, effectiveness and creativity
Cultural sensitivity
Result-orientated and proactive by nature
Attention to detail with regard routine systems and procedures and cost-conscious
Fluency in English is required. Fluency in UN or other languages (eg Arabic, French, Russian, Ukrainian, Romanian, Spanish, sign language etc) is an advantage
Affinity with War Child's mandate, mission, and core values (Impact, Creativity, Inspiration and Integrity)
Willing to travel frequently/ be deployed to programme areas and have availability to work remotely within CET due to the nature of the work with existing teams and very short deadlines
Our offer
Depending on the duty station, local contract with salary and secondary labour conditions based on the country's salary scale and T&C will apply.
Location: any country where War Child has its offices, dependent on local capacity. The successful candidate needs to be eligible to work in that country. Preference will be given to local candidates.
Contract: War Child typically offers an initial contract of up to 1 year with the intention to prolong after that.
Our organisation
War Child is a dynamic organization. We keep an informal ambiance within our office and in our remote work, with lots of room for creativity, inspiration and self-initiative from employees. We practice what we preach: dynamic, innovative, integrity focused, with a drive to reach the highest possible results against the lowest possible costs. War Child offers a challenging job in an inspiring work environment.
How to Apply
Interested and qualified candidates are invited to apply on or before 17 August 2022. Make sure to upload your English CV (maximum of two pages) and cover letter here:
N.B. War Child will be reviewing applications on a rolling basis and reserves the right to close the vacancy if a successful candidate is identified prior to the deadline.
Please mention where you found this vacancy.
Is this not your dream job? Support War Child by sharing this job with your network!
Safeguarding
War Child is committed to humanitarian values, standards and norms and we expect the same from job applicants. War Child is especially committed to safeguarding the children and youth we support and doesn't tolerate any form of abuse. Because we want to prevent and deter any actions that place children and youth at risk, conduct references are an important part of our recruitment procedure. As part of the selection process, War Child will request standardized references in accordance with the Inter-Agency Misconduct Disclosure Scheme and a recent Criminal Records statement.
Equal opportunity
War Child has a dream that every child lives in peace – no matter who or where they are. That's why we pride ourselves on being an equal opportunity employer. We promote diversity and belonging in everything we do and select our potential new colleagues without regard to gender, race, colour, religion, nationality, disability, age or sexual orientation.
Application process
To ensure that we spend as much of our resources on the support of children and youth, War Child needs to operate as efficiently as possible. This means we can only process job applications received through our websites.
If we appoint a suitable candidate before the given closing date, the vacancy will be removed from our websites. In this case, any responses received after removal will not be processed. Sometimes the closing date of a vacancy is extended. If so, and you have not yet heard from us, your application will remain active.
For more information please open this link
Apply Here
https://www.warchildholland.org/project-vacancies/head-humanitarian-programming/
How to Stop Missing Deadlines? Follow our Facebook Page and Twitter !-Jobs, internships, scholarships, Conferences, Trainings are published every day!