APPLY FOR THIS OPPORTUNITY! Or, know someone who would be a perfect fit? Let them know! Share / Like / Tag a friend in a post or comment! To complete application process efficiently and successfully, you must read the Application Instructions carefully before/during application process.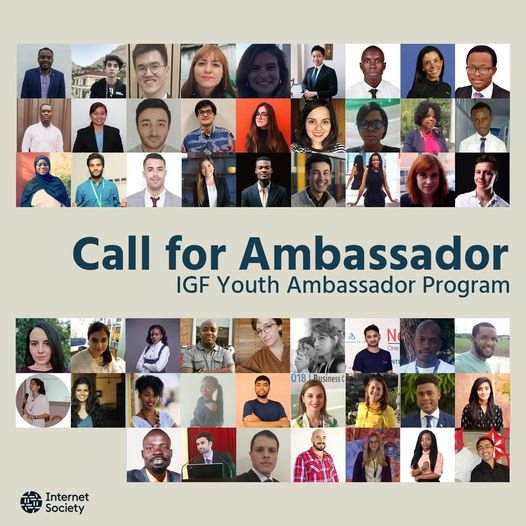 IGF Youth Ambassador Program
Do you want to:
✓ make a big impact on Internet governance in your community?
✓ receive training and connect with a network of key influencers in the Internet governance sphere?
✓ gain access to a platform where you can raise your voice on Internet issues that matter to you?
Become an Internet Society IGF Youth Ambassador!
Each year, the Internet Society selects thirty young, passionate people to participate in our IGF Youth Ambassador Program, equipping the next generation of Internet leaders to collaborate and innovate for a better world.
Why apply?
In becoming an IGF Youth Ambassador, you will have the opportunity to take part in the Internet Governance Forum (IGF), an annual meeting that brings various stakeholders together from around the world to share good policies and practices relating to the Internet. During the program, you will:
How to Stop Missing Deadlines? Please Follow our Telegram channel https://t.me/PlopAndreiCom ( @plopandreicom)
Receive training and mentoring on key Internet governance issues
Represent your community, increase your visibility and bring your voice to the table
Engage with key Internet stakeholders from around the world
Work as a team and become part of the broader Internet governance community
Develop the skills and connections needed to make more of an impact in your local community (and beyond!)
What's the selection process?
If you are an Internet Society member and aged 18-30, you can apply. The selection process is conducted in three phases.
Submit an online application
Complete eLearning course (up to 150 top applicants)
Write a paper (up to 50 top learners)
1. Online applications
All applicants must be:
Able to present a strong interest in Internet governance
Able to demonstrate interest and expertise on issues on the IGF agenda
Comfortable with public speaking and communicating your stance
Capable of representing the Internet Society, its views and policies
Can continue to work with the Internet Society locally after the IGF
Fluent in English
Able to commit 6+ hours per week during the eLearning phase
Available to take part in meetings and webinars
Not have been selected as an Internet Society IGF Ambassador, Youth@IGF Fellow, or IGF Youth Ambassador before
2. Online Internet governance course
The applicants selected in phase 1 (up to 150 individuals) will take an online course on Internet Governance. All participants will be grouped into classes, each with a dedicated expert moderator to facilitate the learning process. Up to 50 participants will be selected to proceed to the next phase.
3.   Paper writing
Finalists from the online course phase will be required to write a paper on an existing or emerging area in Internet Governance, leveraging the learnings from the course and Internet Society 2021 Projects. Papers will be evaluated by a selection committee and the best submissions will be selected as IGF Youth Ambassadors.
Please note that the selection committee, composed of Internet Society staff, Online Tutors and Chapter/SIG Leaders, attempts to achieve professional, geographical, and gender diversity in the overall selections.
What's required of me if chosen?
Webinar series
The individuals who are selected as IGF Youth Ambassadors participate in a webinar series led by a global Internet governance expert to deepen their knowledge, present their projects/ideas, and be prepared for the IGF. There will also be webinars on Internet Society 2021 Projects, and specific sessions led by our partners and sponsors. Additionally, in collaboration with the Youth Coalition on Internet Governance, the IGF Youth Ambassadors will be mentored by Internet Governance Experts.
Attend the IGF
IGF Youth Ambassadors will attend the Internet Governance Forum in 2021 remotely due to COVID-19.
Collaborative Leadership Exchange
IGF Youth Ambassadors will attend a virtual dynamic leadership session with Internet Society community members, youth representatives from other programs, Internet Society staff, and other IGF attendees. This session takes the form of an "unconference", with the agenda being crowdsourced by attendees, and breakout groups facilitated to create pockets of common interest and interaction. The goal is to build/deepen relationships and foster community around youth engagement.
Timeline
Online application submissions open
Application submissions close
Successful candidates for next round invited to complete eLearning course
Deadline for eLearning course completion
Successful candidates for next round invited to write a paper
Deadline for paper submissions
Ambassadors start webinar series
Deadline for completion of webinar series
Program in-kind partners
If you would like to support the program through sponsorship, please contact us at leaders@isoc.org to discuss how.
For more information please open this link
https://www.internetsociety.org/policy-programs/igf-youth-ambassadors/
How to Stop Missing Deadlines? Follow our Facebook Page and Twitter !-Jobs, internships, scholarships, Conferences, Trainings are published every day!