APPLY FOR THIS OPPORTUNITY! Or, know someone who would be a perfect fit? Let them know! Share / Like / Tag a friend in a post or comment! To complete application process efficiently and successfully, you must read the Application Instructions carefully before/during application process.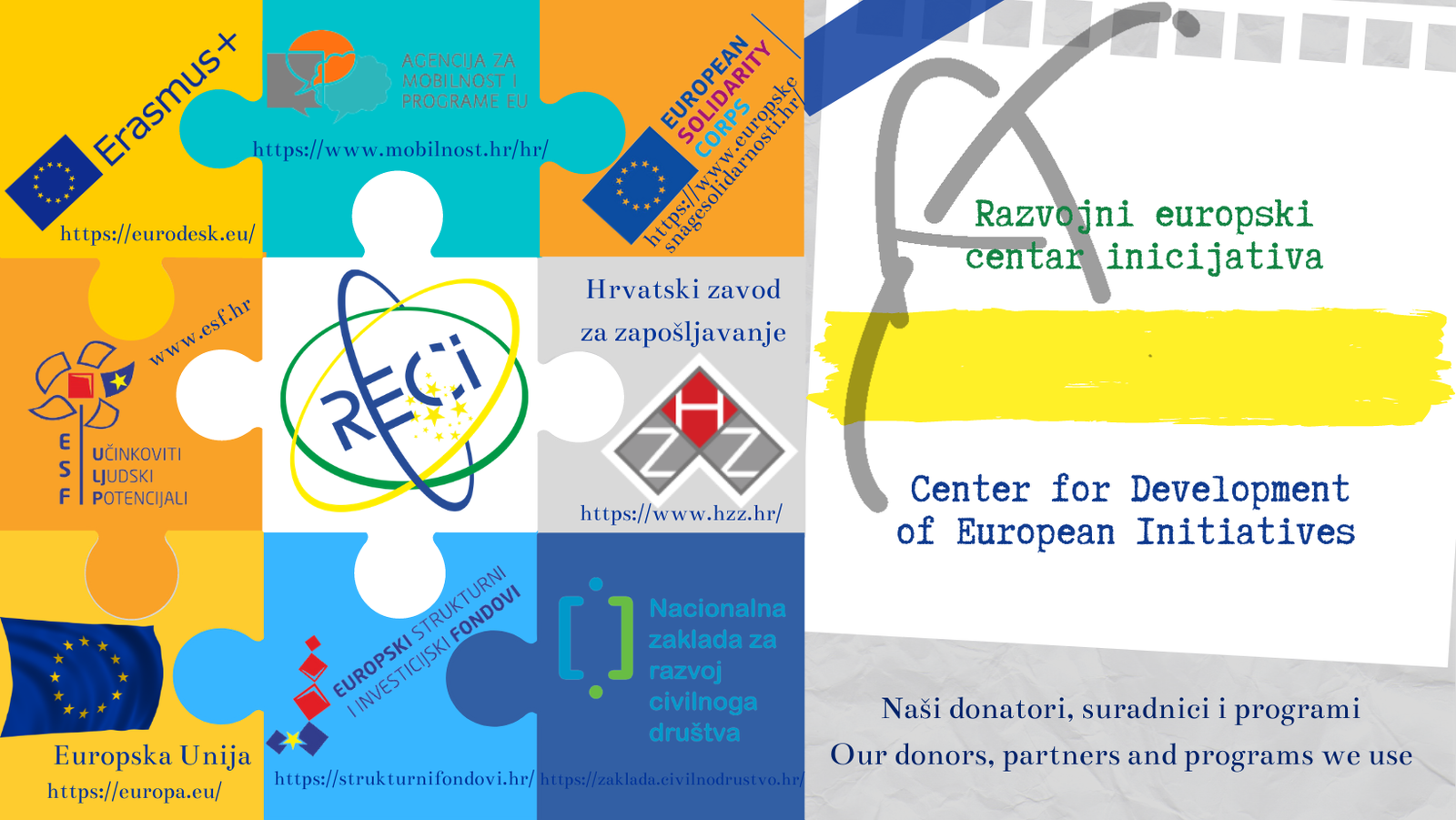 Volunteering Helps Society
RAZVOJNI EUROPSKI CENTAR INICIJATIVA
Šibenik, Croatia
How to Stop Missing Deadlines? Please Follow our Telegram channel https://t.me/PlopAndreiCom ( @plopandreicom)
ACTIVITY DESCRIPTION
We want to give an European dimension to the organisation's activities. This project will mean the strengthening of the association's internationalisation process. With the proposed project RECI will increase the quality of its projects, especially the activities towards the young people. They will live in a middle-size context community where young people do not have good feelings towards volunteering and participation. We want to work on this aspect, providing to the young people information about mobility project and volunteering as experiences for their personal and professional development. The involvement of young people in volunteering activities is fundamental. It's fundamental for the community but even for the youngsters because they will improve their skills enjoying with other people in non-formal and informal education context.
ACCOMMODATION, FOOD AND TRANSPORT ARRANGEMENTS
Accommodation is organized and paid by the hosting organization For food hosting organization secured monthly amount of 150 EUR + 150 EUR pocket money Transport to destination country (and back home) is paying hosting organization depending about Erasmus+ distance calculator
TRAINING DURING THE ACTIVITY
The volunteers will have two training's provided by Croatia National Agency. On-arrival in Orahovica and mid-term training in Split (accommodation and travel expenses for participation in training are covered by the National Agency).
PARTICIPANT PROFILE
This call is open to all young people aged between 18 and 30 years old. We generally look for volunteers who are dynamic, creative, sociable, patient, able to work in a team, sociable, flexible, and creative: we would like to host people with interesting hobbies, with their own ideas, and open to different cultures. However, we also look for volunteers who like social media management and graphic design (e.g. video and photo editing). Nevertheless, strong motivation, willingness to see and to do something new, curiosity about the world and other cultures are welcome 🙂
ACTIVITY DATES
 A total of 34 week(s) during the period 01/09/2021 to 30/04/2022
---
ACTIVITY LOCATION
 Ulica 8. udarne dalmatinske brigade 10, 22000 Šibenik Croatia
---
LOOKING FOR PARTICIPANTS FROM
Italy, Germany, Portugal, Spain
---
ACTIVITY TOPICS
 Citizenship and democratic participation
---
DEADLINE FOR APPLICATIONS
 Application deadline: 01/08/2021
For more information please open this link
https://europa.eu/youth/solidarity/placement/27134_en
How to Stop Missing Deadlines? Follow our Facebook Page and Twitter !-Jobs, internships, scholarships, Conferences, Trainings are published every day!