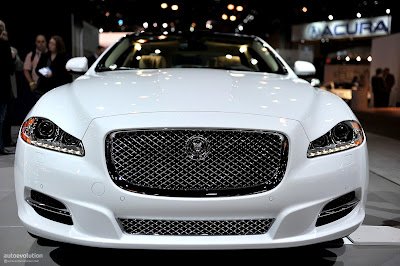 Carrying the same design forward for nearly four decades may have worked for the Porsche 911, but eventually, Jaguar's luck ran out. And while Porsche's reputation for quality and performance helped it stay afloat (not to mention building the best sports cars on the road) Jaguar carried the millstone of poor reliability and stuffy British sensibilities. No matter what your socioeconomic background, you could always think of someone you knew who owned a Jaguar that was in the shop more than on the road. The year 2009 brought about the end of the Jaguar XJ's long evolution through the primordial soup, and the car finally transformed from temperamental feline into one of the boldest looking cars on the road.

The design has the perfect juxtaposition of boxy brawn and organic curves, while the sloping roofline avoids the cliché German-style aping of the Mercedes-Benz CLS. Instead, it looks almost French, with a gentle trunk tacked on to the rakish roofline ala the Citroen C6. The XJ manages to attract a disproportionate amount of attention for a car that's been on sale for some time now. We even got curious exotic car owners coming up to us while parking in trendy districts, rushing up to our open driver's side window and inquiring about "the new Jag limo".
LIGHT WEIGHT AND POWERFUL
Underneath the striking exterior is a highly advanced (but equally costly) aluminum chassis, a weight saving measure that also allows cash-poor Jaguar to have access to a lightweight but modular platform for vehicles of different sizes. While 4,220 lbs isn't light by most standards, it undercurrents a Ford Taurus SHO by a couple hundred pounds, not to mention its direct rivals like the Mercedes-Benz S-Class and the significantly-smaller Maserati Quattroporte.
The svelte weight is even more impressive in light of the larger-than-life way the XJ goes about its business. The extended wheelbase car measures nearly 207 inches in length, almost five inches longer than a Cadillac Escalade. Power comes from a 5.0L V8 with a supercharger, making 510 horsepower and 461 lb-ft of torque. Some outlets have seen times as low as 4.3 seconds to 60 mph – putting the XJL Supersport in a league with genuine sports cars. We never got bored of stomping on the throttle and watching the big cat leap. We even managed to squeeze 20.5 mpg in mixed driving over the course of a week, an impressive figure from such a massive powerplant.
Even though the XJL occupies a lot of physical space, it feels like it weighs have of what it does. Thanks to the aluminum construction and Jaguar's wonderful chassis engineers, the XJL can be flung every which way into corners while responding with complete composure. Fast sweepers and highway ramps become a challenge in exceeding your own personal capabilities, as the abundant torque and engaging chassis dare you to take turns at unfathomable speeds.
LUXURY ABOUNDS
Establishing any performance car bona fides is almost superfluous, as the XJL really shines when someone else is driving you around. The opulent cabin, finished in your choice of butter soft hides, lets passengers stretch their legs completely in the rear seat, while fold-down tray tables seemingly nicked from a Cathay Pacific first-class cabin are available for resting your blue fin tuna tartar as you take in the latest issue of Barron's.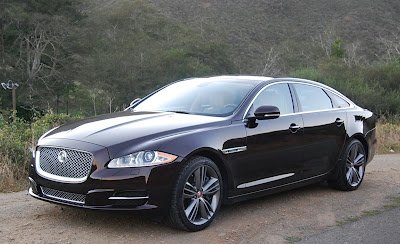 The middle seat arm rest can be folded down to bisect the rear seat (in case you tire of being in proximity to your companion) and features a number of compartments (including a cigar holder) lined in purple velvet. The wood extends throughout the cabin, and might as well be "reclaimed" wood from a plutocrat's now-seized yacht. The door panels are outfitted with solid blocks of dark mahogany with some sort of feline inlay design, while another bow of wood stretches from just aft of the A-Pillar, all the way around the inner lip of the windshield and back around.
The poor shmucks sitting up front will have to contend with plush wing-chair-like front seats with available massagers, as well as the controls to the 1200 Watt Bowers & Wilkins stereo system – another frightfully British touch that we enjoyed immensely. Using "Watch The Throne" as a demo, we cranked the volume up high and reveled in the rich piano samples and thumping bass provided by the B&W unit, although its clarity will be lost on those who favor Mercedes-Benz S550s with trunk-thumping subwoofers.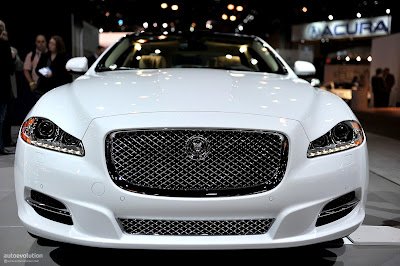 Meanwhile, most controls can be operated through a substantial touch screen unit in the dash. While other Jaguars are saddled with a crude, obsolete bits of technology, the newest Jaguar interface (which we expect to be made standard eventually) is highly intuitive and easy to operate. Tasks such as iPod integration and Bluetooth setup, which are normally glitch-ridden and infuriating, all worked on the first try.