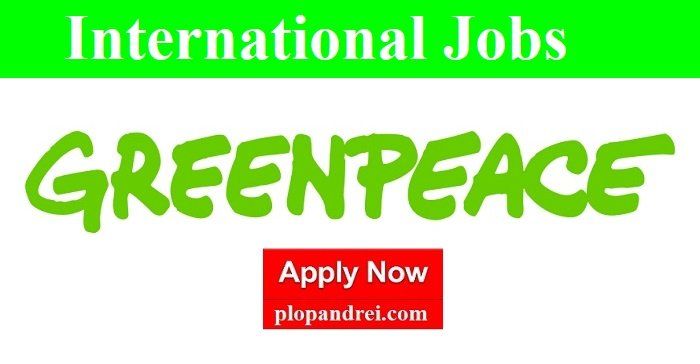 Head of Technical Operations
Job description
Permanent* / full time
*offered on a 12 month contract basis initially, with possibility of extension / move to permanent contract
Location: The successful candidate may be based in a country where one of the independent National/Regional Greenpeace organisations (NRO's) is located. See the locations here. [Please note that we are currently unable to host new staff in a number of NRO's at this present time, due to various restrictions. You may be contacted by Faststream Recruitment Group with further information as necessary, depending on your location]. We offer competitive NGO level salary and benefits, the specifics of which depend on location where the successful candidates will be based. We aim to share this information with candidates before reaching the offer stage.

Greenpeace International is currently looking for a Head of Technical Operations to lead and manage the Technical Operations unit and be a crucial part of the Operations Management Team, ensuring the unit is integrated in the strategy development and implementation of the department.
In this senior leadership role, you will ensure that Greenpeace International's fleet of ships, and Greenpeace's maritime operations more widely, are fully fit for purpose to support our campaigns across the world. Our Head of Technical Operations will be a proactive, expert maritime leader with the ability to build relationships with stakeholders across the Greenpeace network and externally.
For further details about the role, please see the full job description HERE.
In this role you will:
Promote the research and development (R&D) of ships, maritime and campaign related equipment.
Issue and periodically review and implement the Company policies and procedures, in relation to ships operations legislation (SOLAS, MARPOL etc.) including country and area specific requirements to ensure safe and effective worldwide operation of ships and other marine related equipment.
Pro-actively and on request provide the organisation with expert advice on all maritime issues.
Keep abreast of technical and nautical developments and to lead the way in terms of responsible and sustainable ships management, paving the way to a zero-emission fleet.
In line with agreed specifications, manage the purchases, services, budgets and monitor new ship building, life cycle and end of life projects, project teams for major ship conversions/repairs, asbestos, and hazardous waste management.
Ensure planned maintenance systems are set up and regularly updated and reviewed, including the testing, calibration of technical equipment and systems in line with regulatory (Classification, flag state) requirements.
Act as DPA in accordance with ISM Code requirements, and as the Company Security Officer (CSO) in accordance with agreed levels of compliance, like ISPS Code and the ILO Maritime Labour Convention (MLC).
Ensure that ships are prepared effectively, risks managed, and crews prepared and trained for passage through High-Risk Areas.
Job requirements
What we're looking for:
Significant senior leadership experience in ships/fleet management and equipment management (Greenpeace/NGO ships experience is a plus but not a must)
Experience in creative R&D for onboard and on land campaign equipment
Excellent interpersonal skills and experience in operating within an international and multicultural environment
Experience in working with multicultural senior staff and teams across borders
Exceptional influencing skills, and strong negotiation, communication and presentation skills
Experience in working effectively to very tight deadlines in stressful conditions
Experience in building effective teams
Budget and purchase management experience
Experience in fleet management software desirable
Excellent project management skills
Experience in Ship insurance and claims management
ISM / ISPS Code/ Quality Management System auditor training and experience
Ability to travel at short notice.
Fluency in written and spoken English (any other language is an asset)
Support for and belief in Greenpeace core aims and values.
You will get:
You'll be encouraged to develop both personally and professionally, taking advantage of the wide range of learning and development opportunities available to our staff. Staff can also access our wellness initiatives, such as yoga and meditation and also have the opportunity to join our global Equity, Diversity & Inclusion staff communities.
Please visit the careers site here, to learn more about working for Greenpeace.
Our values:
Greenpeace is a global campaigning network. It comprises 26 independent national/regional organisations, and a coordinating organisation, Greenpeace International. Greenpeace uses peaceful, creative confrontation to expose global environmental problems, and develop solutions for a green and peaceful future.
At Greenpeace, we get up everyday to:

Solve the climate crisis and protect biodiversity in all its forms
prevent pollution and abuse of the earth's ocean, land, air and fresh water
end all nuclear threats
promote peace, global disarmament and non-violence
We believe in courageous nonviolent personal responsibility and action, independence from corporate influence, no permanent friends or foes and promoting solutions.
We believe in distributed leadership, consent-based decision making among flexible teams, fostering career growth and learning opportunities, work-life balance and maintaining the well-being of every
employee.
We believe in advancing the principles of diversity, equity and inclusion throughout our organization.
To Apply:
If you are passionate about our mission and you fit our profile then we would love to hear from you!
Faststream Recruitment is retained by Greenpeace International to undertake this assignment.
If you wish to be considered for this position, please click 'Apply for this job' below, to be redirected to the Faststream Recruitment website to begin your application.
The deadline for applications is: the 18th of December 2022 23:59 CET.
If you have an initial query rather than an application, kindly email us atrecruitment.int@greenpeace.org. Please note that all applications must be filled out via the Faststream Recruitment website and can't be submitted via this email.
Greenpeace International is an equal opportunity employer with a longstanding commitment of providing a work environment that respects the dignity and worth of each individual. We recognise and value the benefits and strengths that diversity brings to our employees and the whole organisation and we thrive in an environment that encourages respect and trust. We do not discriminate in employment opportunities or practices on the basis of age, ancestry, citizenship, colour, disability, ethnicity, family or marital status, gender identity or expression, national origin, political affiliation, race, religion, sex, sexual orientation and would like to invite you especially to apply!

For more information please open this link
Apply Here
https://workfor.international.greenpeace.org/o/head-of-technical-operations