APPLY FOR THIS OPPORTUNITY! Or, know someone who would be a perfect fit? Let them know! Share / Like / Tag a friend in a post or comment! To complete application process efficiently and successfully, you must read the Application Instructions carefully before/during application process.
Președintele PPE, Joseph Daul: "Fiindu-le frică de ACUM, au folosit tactici murdare ca să rămână la putere"
"Îl felicit pe blocul ACUM din Republicii Moldova alcătuit din partidele membre ale Partidului Popular European, în urma rezultatelor excelente ale acestora la alegerile parlamentare de duminică. Este clar că ACUM este forța politică cea mai de încredere a moldovenilor.
Din frica față de succesul celor de la ACUM, unii au folosit tactici rușinoase și murdare făcând tot posibilul să rămână la putere și să mențină Moldova în sărăcie și corupție.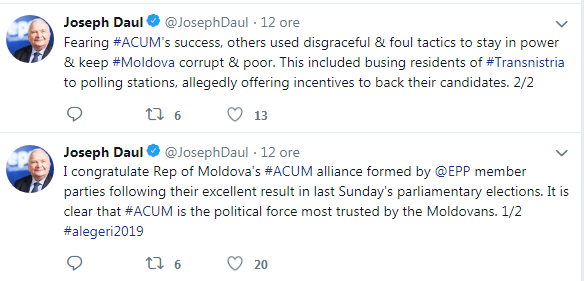 How to Stop Missing Deadlines? Follow our Facebook Page and Twitter !-Jobs, internships, scholarships, Conferences, Trainings are published every day!