APPLY FOR THIS OPPORTUNITY! Or, know someone who would be a perfect fit? Let them know! Share / Like / Tag a friend in a post or comment! To complete application process efficiently and successfully, you must read the Application Instructions carefully before/during application process.
Încă din prima zi a războiului, România începuse tratative cu Antanta, străindu-se să obţină teritorii foarte importante în Bucovina, în Transilvania şi în Banat. Antanta a făcut propuneri generoase teritoriale pe seama monarhiei austro-ungare, pe când puterile centrale au oferit doar Basarabia. Promisiunile la care Aliaţii se angajaseră au constituit obiectul unei convenţii cu puterile Antantei la data de 4/17 august 1916. In acelasi timp, regele Carol I primeşte un mesaj de la împăratului Germaniei, Wihelm al II-lea, prin care i se cerea României îndeplinirea obligaţiilor faţă de Puterile Centrale. Tratatul defensiv secret încheiat de România cu Austro-Ungaria la 18/30 octombrie 1883, la care a aderat în aceeaşi zi şi Germania, apoi la 3/15 mai 1888 şi Italia, reînnoit ultima oară în februarie 1913, prevăzuse, în esenţă angajamentul părţilor de a nu încheia alianţe cu terţe ţări îndreptate împotriva unuia din semnatari şi totodată de a-şi acorda în caz de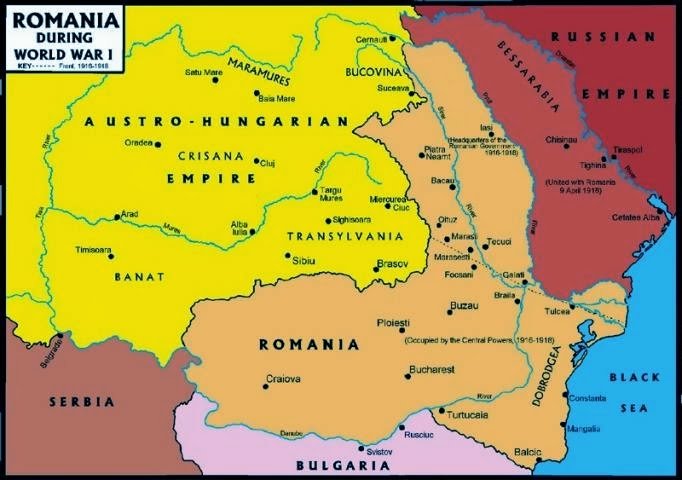 agresiune, neprovocată, asistenţă militară.

Importanţa strategică a României în
sud-estul şi centrul Europei în 1914 era amplificată de bogatele ei resurse şi
de potenţialul ei economic. Având o
suprafaţă de 131353 km2 în urma reunificării Dobrogei în 1878 –
sporită cu 8371 km2 în 1913 –
şi o populaţie de peste 7,5 milioane. În ajunul războiului producţia petrolieră
se ridica la 1885 225 tone ceea ce plasa
România pe locul 3 în lume după SUA şi Rusia.
La 3 august, Consiliul de Coroană s-a întrunit la Sinaia, cu participarea
membrilor guvernului şi a unor personalităţi politice din opoziţie –
respinge propunerea regelui Carol I ca România să se alăture imediat puterilor
Centrale şi hotorăşte adoptarea unei politici de neutralitate. Influenţa germană rămânea totuşi foarte puternică la Curte şi unele grupuri ale
societăţii d
eşi
regele României, Carol I era german prin origine,
opinia publică românească şi clasa politică în marea ei
majoritate era de partea Antantei.
Iniţial Germania plănuia
să înfrângă militar în câteva luni Rusia
şi Franţa şi apoi să negocieze pacea cu
Anglia. Convişi în 1915-1916 că nu pot
scoate Rusia din luptă pe cale militară Centralii
vor recurge la diversiunea internă din 1917. Politica de tergiversare a
României a continuat să fie imprevizibilă pe de o parte erau interesele
economice, principali parteneri
economici erau în ordine, Germania, Austro-Ungaria, Marea Britanie, Franţa şi
Belgia şi neutralitatea Italiei a
determinat-o şi pe cea a României un alt
factor finnd atitudinea categorică a
lui Brătianu, care susţinea că războiul se va desfăşura pe o perioada mai
îndelungată ceea ce va determina ca ţara să nu fie implicată în vreo acţiune până
nu se va întrezări cu claritate
de partea cui înclină balanţa victoriei. România şi guvernul ei nu numai că îşi manifestau totală simpatie
faţă de Antanta, dar primul-ministru
Brătianu, nu îşi ascundeau niciodată încrederea deplină în victoria finală a
acesteia însă la 12 decembrie 1914 Austro-Ungaria a declanşat o cotraonfesivă
în Galiţia a provocat retragerea masivă a armatelor ruse din regiunea
Carpaţilor Nordici. Mai – iunie 1915
ofensiva forţelor germano-austro-ungare dintre
Vistula şi Carpaţi surprizând
defensiva rusă, armatelor Puterilor Centrale au străpuns frontul advers între Gorlice şi Tarnow,
trupele ţariste au pierdut 2/3 din efective(peste 500 000 de prizonieri) . Pe 23 martie 1915, Italia declara război
Austro-Ungariei. De-abia un an mai târziu (august 1916) avea să declare război
şi Germaniei. Pe data de 11 octombrie 1915 Bulgaria intra în război de partea
Puterilor Centrale. Bulgaria micşorată şi
umilită prin tratatul de pace la Bucureşti,
caută o ocazie de a-şi reveni,
pentru a-şi satisface pretenţiile teritoriale în care trebuia să fie smulsă
Serbiei o mare parte din Macedonia, României partea meridională a Dobrogei, iar
Greciei Kavalla, împreună cu Seres şi Drama. Importantul succes al ofensivei de pe frontul de Sud-Vest,
cunoscut sub numele de ofensiva Brusilov A fost cea mai mare criză a
Austro-Ungariei și cea mai mare victorie a Antantei din Primul Război
Mondial nu a influenţat numai
evenimetele de pe frontul italian. Urmările sale au fost la fel de mari pe
frontul francez, de unde germanii au fost obligaţi să-şi retragă aproape optzeci
de divizii. După ce au eşuat toate încercările factorilor decizie
politico-militară din Austria-Ungaria şi Germania de a atrage România în război
de partea coaliţiei Puterilor Centrale, aceştia au elaborat un plan de campanie
pentru varianta ca România va intra în război. Planul prevedea acţiunea comună
a forţelor austro-ungare, germane, bulgare şi otomane împotriva României. În
prealabil, la 19 iulie 1916 a fost semnată Convenţia privind acţiunile militare
ale armatelor Austro-Ungare, Germaniei, Bulgariei şi Turciei. În august 1916 a adoptat varianta de plan
denumită ,, Ipoteza Z,, care a devenit
,, Planul de campanie al comandamentului român",. Planul cuprindea scopul politic şi militar
urmărit, formele de acţiune, concluzii despre inamic, gruparea forţelor,
misiunilor armatelor române. Studiind inamicul, s-a ajuns la concluzia că
aceasta dispunea de o grupare de forţe (circa 70000 de militari) a armatei austro-ungare în Transilvania, care
putea să ducă lupte de apărare pe
aliniamente succesive, începând cu linia frontierei, de-a lungul Carpaţilor.
Concomitent, inamicul putea să concentreze o gruparea de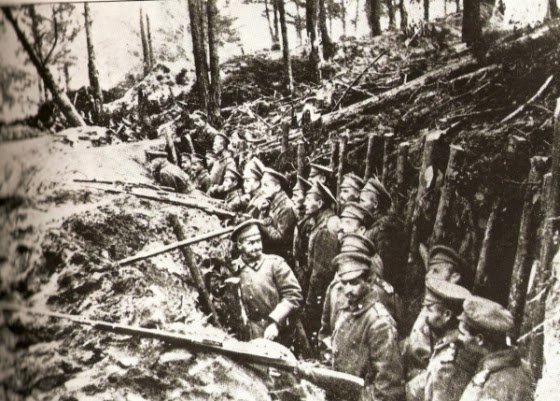 forţe în raionul:
Cluj, Dej, Bistriţa, de circa 100000 de oameni cu care să treacă la apărarea pe
cursul mijlociu al mureşului, pentru a
opri înaintarea forţelor române. Se aprecia că în Banat şi pe Valea Cernei
forţelor inamicului s-ar ridica la circa 30000 de oameni. Antanta agasată de atâtea stratageme a forţat
însă intrarea României în acţiune pe
baza ultimatului care anunţa intrarea
unei armate ruse a 100 000 de oameni că depinde de România dacă aceştia vor
veni ca prieteni sau ca duşmani. România a delcarat război Austro-Ungaria la
14/17 august 1916 şi a luat imediat ofensiva. Ca răspuns Germania, Turcia şi
Bulgaria la rândul lor i-au declarat război. Planul de campanie al
comandamentului român era în acord cu situaţia în care se găsea România,
corespundea condiţiilor
politico-militare strategice urmărite şi concorda cu prevederile Tratatului de
alianţă semnat de România cu Antanta.
Repartiţia forţelor şi mijloacelor era în concordanţă cu scopurile strategice
propuse.
How to Stop Missing Deadlines? Follow our Facebook Page and Twitter !-Jobs, internships, scholarships, Conferences, Trainings are published every day!