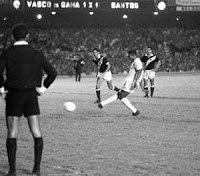 The most famous footballer of all time was born Edison Arantes do Nascimento in the city of Três Corações in the Brazilian state of Minas Gerais. In spite of his father – João Ramos do Nascimento, nicknamed Dondinho – being a professional footballer, Pelé grew up in poverty in the city of Bauru, São Paulo. Nevertheless, he developed his sporting skills using makeshift footballs such as socks filled with newspaper or grapefruit.
Pelé joined the junior team at Santos at the age of fifteen, before joining the senior squad a year later as a forward. He scored a goal in his début match against Corinthians on 7th September 1956, going on to be the stop scorer in the division. Less than a year after signing a professional contract he played his first game for the national side scoring Brazil's only goal in a 2-1 defeat to Argentina, becoming the youngest ever player to score in an international: he was aged only sixteen years and nine months.
In 1958, he also became the youngest player to take part in a FIFA World Cup. He scored six goals throughout the competition, including two goals in Brazil's 5-2 victory over Sweden in the final. Brazil retained the World Cup in 1962, with Pelé getting on the score-sheet only once.
The 1960s proved to be a golden decade for Santos. Pelé's team won six national championships and two continental trophies. By the end of the decade he approached a milestone in his career: his thousandth goal in senior football.
Anticipation increased during the 1969 season as he approached the landmark. On 19th November, Santos travelled to play Vasco Da Gama in the huge Maracana Stadium with Pelé's goal tally numbering 999. The 125,000 strong crowd watched as he was twice denied in the first half: first by the crossbar; then by a magnificent save from Vasco goalkeeper, Andrada.
In the second half, a defender appeared to bring Pelé down in the penalty area. The referee pointed to the spot and the Santos left-back, Rildo, stepped up to take the kick, but the team captain, Carlos Alberto, decided that Pelé should take the spot kick as his team-mates retreated to the half-way line in order that he may compose himself.
Pelé slotted the ball into the bottom-left-hand corner to score the goal known popularly as O Milésimo ("The Thousandth"). As photographers and spectators ran onto the pitch and surrounded the goal, he stood in the net repeatedly kissing the ball and thanking it for all it had given him. He was then carried aloft around the pitch while the entire crowd celebrated his achievement.