APPLY FOR THIS OPPORTUNITY! Or, know someone who would be a perfect fit? Let them know! Share / Like / Tag a friend in a post or comment! To complete application process efficiently and successfully, you must read the Application Instructions carefully before/during application process.
Uitandu-ma peste CV-urile lui Maia Sandu si al lui Dumitru Alaiba nu ai cum sa observi ca acestea au studiat atat in Republica Moldova cat si peste hotare! Dupa ce au muncit peste hotare si au acumulat experienta, ( joburi destul de bune) ei au hotarat sa se intoarca in Moldova! Sa puna in aplicare toate cunostintele acumulate in vest si sa le implementeze in Republica Moldova! De obicei natura moldovanului atunci cand gaseste un job bun peste hotare nu mai vrea sa revina la munca in Moldova! Pentru ca majoritatea Moldovenilor care se intorc de sarbatori acasa din strainatate si cand vad mizeria ( politie corupta, oameni care nu respecta regulile circulatiei, transportul public, justitie corupta, cu politicieni corupti si prosti la guvernare etc) incep practic sa se sufoce! Si asteapta cat mai repede sa se intoarca inapoi la munca in strainatate! Iar dupa un timp isi ia toata familia si nici de sarbatori nu mai revine! Reprezentantii blocului ACUM in diaspora au renuntat la joburile lor pentru a reveni in Moldova! Atat Maia Sandu cat si Dumitru Alaiba ar putea sta la masa cu orice lider al lumii fara ca sa ne faca tara de rusine! Republica Moldova are nevoie de persoane inteligente care sa ne reprezinte si nu de Dancile care pur si simplu umileste Romania la fiecare intalnire cu lideri UE!
Dragnea are nevoie de persoane docile precum este Dancila! Iar Plahotniuc are nevoie de Filip, Tutu etc..! Nu este momentul ca sa se vina cu critici la adresa Maiei Sandu, Dumitru Alaiba!
In special de la persoane din diaspora care au vazut cum functioneaza democratia si sunt sigur ca fiecare moldovean ar dori ca si Moldova sa arate ca Germania, Italia, Spania, SUA, Canada etc..!
Va rog sa trageti o privire peste CV-ul lui Dumitru Alaiba si a Maiei Sandu! Eu cred ca Moldova are nevoie de astfel de persoane care sa ne reprezinte!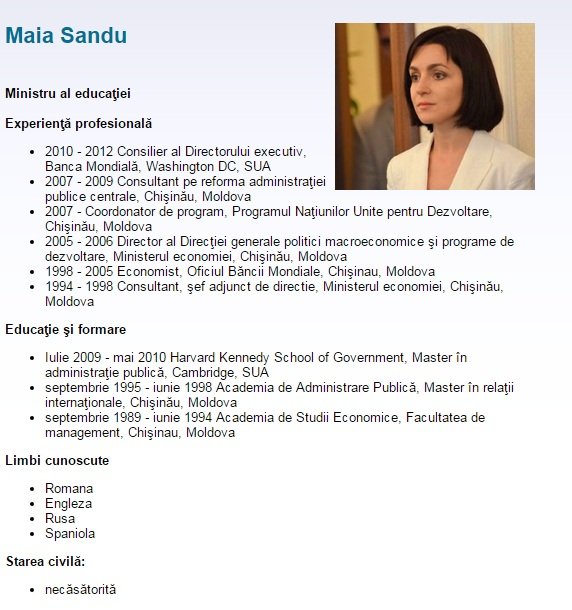 Dumitru Alaiba
CPR Moldova
Freelancer
Open Society Foundations
sic.md
Oxford Policy Management
Head of Secretariat
Responsible for promoting key business climate reforms.
By cutting red tape, promoting clear rules and procedures, and increasing transparency the initiatives completed by our team are saving the Moldovan businesses 87 million lei and 64 thousand working days annually.
Government of the Republic of Moldova, State Chancellery
Cancelaria de Stat
Deputy Head of Policies, Strategic Planning and External Aid Department
Human Dynamics, Austria
Business Development Manager
EU TACIS, Latvian Ministry of Regional Development and Local Government
Project Financial Manager
Helsinki Consulting Group Ltd, Finlanda
Rovaniemi University of Applied Sciences, Finland
International Project Management
Academy of Economic Studies of Moldova
Licentiate in Finance
Specializarea – Bănci și Burse de ValoriMajor in Banking and Stock Exchanges


contact
https://alaiba.wordpress.com/
https://www.facebook.com/alaiba
How to Stop Missing Deadlines? Follow our Facebook Page and Twitter !-Jobs, internships, scholarships, Conferences, Trainings are published every day!