APPLY FOR THIS OPPORTUNITY! Or, know someone who would be a perfect fit? Let them know! Share / Like / Tag a friend in a post or comment! To complete application process efficiently and successfully, you must read the Application Instructions carefully before/during application process.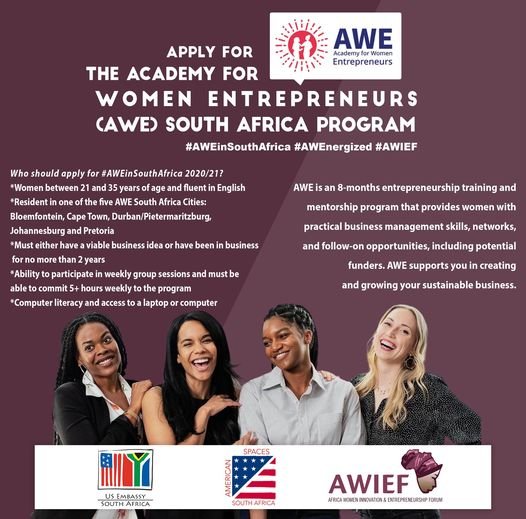 THE ACADEMY FOR WOMEN ENTREPRENEURS (AWE) SOUTH AFRICA PROGRAM 

The Academy for Women Entrepreneurs (AWE) is an initiative of the U.S. State Department's Bureau of Educational and Cultural Affairs (ECA) developed to support the White House-led Women's Global Development and Prosperity (W-GDP) Initiative which aims to empower 50 million women worldwide by 2025 to fulfil their economic potential, creating conditions for increased stability, security, and prosperity for all.  

AWE South Africa 2020 is an 8-month-long entrepreneurship training and mentorship program that provides women with practical business management skills, robust networks, and follow-on opportunities, including potential funders. AWE supports women in creating and growing sustainable businesses.

AWE is centered on DreamBuilder, an online training platform developed by Arizona State University's Thunderbird School of Management, and facilitated by experts.

Who should apply for AWE South Africa 2020/21?
1. Women between 21 and 35 years of age and fluent in English 
2. Resident in one of the five AWE South Africa Cities: Bloemfontein, Cape Town, Durban/Pietermaritzburg, Johannesburg and Pretoria 
3. Must either have a viable business idea or have been in business for no more than 2 years 
4. Ability to participate in weekly group sessions and must be able to commit 5+ hours weekly to the program 
5. Computer literacy and access to a laptop or computer 

DEADLINE: 30 September 2020, 23:59 CAT 
Enquiries: info@awieforum.org 
For more information please open this link
application
https://docs.google.com/forms/d/e/1FAIpQLSe3b7QT6wA_JvemyyusHJ1Nuk4PUp5_vnxCJPsX1LhrATVMDg/viewform?vc=0&c=0&w=1&flr=0&fbclid=IwAR3Y668XkKPQvjK5HYgRpOZ-DNHsfYZldds7BKdzRp5WzI_VOqW1rLtj794
https://www.africa-newsroom.com/press/the-us-embassy-and-africa-women-innovation-and-entrepreneurship-forum-announce-the-academy-for-women-entrepreneurs-program?lang=en&fbclid=IwAR2cfc209PHWs8wdlWn4eLMRzjwgy-X2qU__LLt4s9hUF_YdpTUbnHnvnhs
How to Stop Missing Deadlines? Follow our Facebook Page and Twitter !-Jobs, internships, scholarships, Conferences, Trainings are published every day!