APPLY FOR THIS OPPORTUNITY! Or, know someone who would be a perfect fit? Let them know! Share / Like / Tag a friend in a post or comment! To complete application process efficiently and successfully, you must read the Application Instructions carefully before/during application process.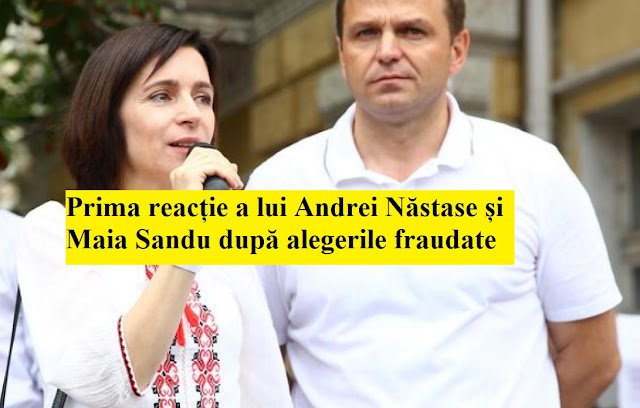 Dragi prieteni,

Analizând cu maximă obiectivitate rezultatele finale ale alegerilor de ieri pentru Parlamentul Republicii Moldova și evaluând impactul uriaș pe care operațiunea de fraudare l-a avut asupra acestor rezultate, sunt în măsură să afirm cu responsabilitate că blocul electoral ACUM a câștigat alegerile parlamentare din 24 februarie 2019. Am costatat cu toții, indiferent de abordările noastre civice sau politice că ieri a fost scrisă cea mai neagră pagină din istoria electorală a Moldovei.
How to Stop Missing Deadlines? Please Follow our Telegram channel https://t.me/PlopAndreiCom ( @plopandreicom)
Ceea ce s-a întâmplat pe tot parcursul zilei de duminică pare astăzi ireal pentru orice analist sau observator neutru care poate descifra limbajul electoral. Miile de oameni aduși în mod organizat din Transnistria pentru 20 de dolari au votat de mai multe ori, pe liste suplimentare, în secții de votare diferite.
Moldova a fost sub asediu, iar reprezentanții instituțiilor obligate să vegheze la buna desfășurare a alegerilor au predat statul, pentru 24 de ore, organizațiilor mafiote și criminale care au organizat această fraudă masivă. Oamenilor liberi le-a fost furat votul la alegerile prezidențiale din 2016. La fel s-a întâmplat la alegerile pentru primăria Chișinău, anul trecut. Acum, frauda a fost transmisă în direct, la televizor, iar oamenii Moldovei au privit cu groază ce se întâmplă în țara lor, în plină zi, cu complicitatea statului captiv, a instituțiilor obligate să împiedice fraudarea votului.
Există dovezi clare, evidente, filmate, că oamenii aduși să voteze multiplu au fost plătiți pentru ziua de ieri, iar aceste dovezi nu pot fi ignorate. Operațiunea criminală de ieri a generat o stare de confuzie generală și panică reală în comunitățile unde autobuzele și microbuzele cu mii de oameni au asediat localități întregi, iar oamenii de bună credință nu au mai putut vota. Mai mult decât atât, acest desant organizat a mutat atenția opiniei publice de pe o altă evidentă și ilegală abatere de importanță majoră de la legea electorală. Mă refer la folosirea resurselor administrative în campania electorală, aspect care, în mod cert și verificabil, a influențat în mod direct decizia oamenilor, votul acestora, rezultatul alegerilor.
Acest scrutin s-a produs pe fundalul anulării alegerilor din Chișinău și a neîncrederii oamenilor în alegeri. De fiecare dată când astfel de operațiuni de fraudare sau invalidare a votului oamenilor, a deciziei lor suverane de a-și alege viitorul, s-au făptuit sub ochii opiniei publice și a observatorilor naționali sau internaționali, nimeni, absolut nimeni, nu a răspuns în fața legii pentru aceste fapte de o gravitate fără seamăn. De această dată, anunț public că fraudarea alegerilor parlamentare desfășurate ieri, 24 februarie, va face obiectul unei anchete detaliate și transparente a evenimentelor și faptelor premeditate și coordonate de criminalii care au decis să fure și de această dată votul oamenilor. Vinovații vor fi pedepsiți, iar faptele lor dovedite vor fi comunicate public, cu maximă transparență. Nimic nu se poate construi în Republica Moldova dacă nu stabilim odată pentru totdeauna cine se face vinovat de atentatele repetate la democrație și la regulile electorale ale acesteia.
Beneficiarii operațiunii coordonate de fraudare a votului oamenilor și toți cei care au permis operaționalizarea acestei misiuni trebuie să răspundă în fața legii pentru faptele lor… și vor răspunde.
Impunitatea, dragi prieteni, a fost instituționalizată de regimul Plahotniuc – Dodon. Criminalii, mafioții, bandiții, hoții și toți călăii poporului nostru nu mai răspund în fața legii pentru faptele comise. Moldova este un stat unde legea se negociază și este aplicată arbitrar, iar instituțiile care au obligația de a aplica legea se află, toate, în captivitatea lui Plahotniuc Vladimir.
Blocul electoral ACUM a câștigat alegerile parlamentare, iar beneficiarii fraudei electorale derulate pe tot parcursul zilei de ieri au impresia că vor scăpa și de această dată! Nu, nu mai este posibil! Ani de zile am protestat cu sutele de mii de oameni în stradă, ne-au provocat, au căutat violența, dar noi am decis să protestăm pașnic, democratic. Pentru că nu au reușit, iată, ieri au dat o nouă lovitură de stat!
Pentru a nu știm câta oară, acest regim coordonat de Planotniuc și-a inventat o formulă prin care să-și legitimeze dictatura sinistră. Frauda masivă a votului! Plahotniuc nu are niciun fel de susținere populară, iar acest regim, creatorul unor personaje ca Dodon sau Șor, trebuie demontat bucată cu bucată și supus judecății publice. Plahotniuc își dorește să păstreze Moldova într-o zonă gri, fără niciun fel de referință socială, publică sau politică, într-o zonă periculoasă propice criminalității organizate, într-un echilibru permanent instabil asupra căruia planează de prea mulți ani pericolul federalizării, transnistrizării Moldovei.
Și acest capitol, potrivit mandatului cetățenilor, trebuie închis cât mai repede în beneficiul cetățenilor Republicii Moldova și în spiritul Constituției noastre, nu altfel.
Din acest moment, conform deciziei oamenilor liberi, cinstiți, drepți și curajoși din Republica Moldova, noi, cei din ACUM, am primit mandat ferm să facem ceea ce este de făcut! Să facem DREPTATE! Și, vom face! Vom începe chiar cu dosarul alegerilor de ieri! Îl vom duce la capăt, iar cei vinovați vor răspunde! Apoi, vom continua cu toate celelalte, deloc puține care au generat catastrofa socială și economică din Moldova! Vinovații trebuie să răspundă și vor răspunde! Moldova trebuie să fie sigură de acest lucru!
Prima reacție a lui Andrei Năstase și Maia Sandu după alegerile FRAUDATE de pe 24 februarie
How to Stop Missing Deadlines? Follow our Facebook Page and Twitter !-Jobs, internships, scholarships, Conferences, Trainings are published every day!