APPLY FOR THIS OPPORTUNITY! Or, know someone who would be a perfect fit? Let them know! Share / Like / Tag a friend in a post or comment! To complete application process efficiently and successfully, you must read the Application Instructions carefully before/during application process.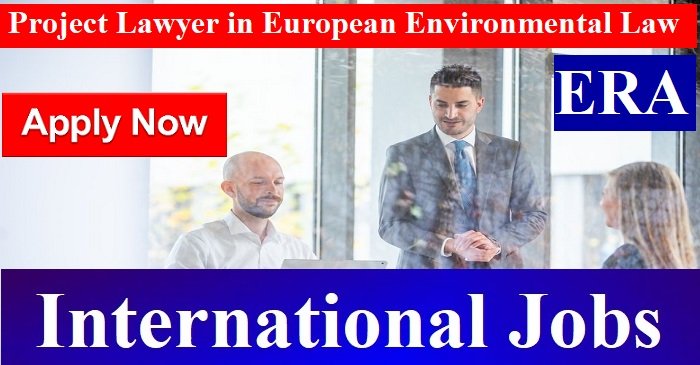 We are looking for a new member of our team as of 1 October 2021
Project Lawyer in European Environmental Law
full time or part time
The job:
The job offers a variety of work and entails primarily the management of three key activities:
• designing, preparing and running legal training courses,
• organising high-level legal conferences and
• developing e-learning modules
all targeted at practitioners of European law such as judges, lawyers in private practice, in-house counsels and civil servants.
What we expect:
• a good knowledge of European Environmental Law
• an analytical mind-set
• good networking and communication skills
• fluency in English, knowledge of German and/or French would be an advantage.
• legal practice or professional experience would be an advantage
What we offer:
• a competitive salary
• flexible and family-friendly working hours
• the option of mobile work
• regular travel within Europe, especially to Brussels
• an attractive workplace in Trier, Germany, just over the border from the EU's judicial capital in  not far from France and Belgium
• the opportunity to work closely with leading experts in European law
• the chance to be part of a dynamic multi-national team
The post is financed under a Commission grant and for an initial fixed term of one year with the potential possibility of extension.
The normal place of work is the city of Trier in Germany, just over the border from the EU's judicial capital in Luxembourg, and regular travel is part of the job. If you feel attracted by the idea of working in a genuine European team and promoting European Environmental law among European lawyers, please send us your CV and a motivation letter by e-mail – indicating your salary expectations (applications without this information cannot be accepted) – in one of the Academy's working languages by 31 August 2021 to:
personal.publiclaw@era.int
Please do not hesitate to contact our Human Resources Department
if you have any questions: Tel +49 (0)651 93737-0.
For more information please open this link
https://www.era.int/cgi-bin/cms?_SID=NEW&_sprache=en&_bereich=ansicht&_aktion=detail&schluessel=era
How to Stop Missing Deadlines? Follow our Facebook Page and Twitter !-Jobs, internships, scholarships, Conferences, Trainings are published every day!