APPLY FOR THIS OPPORTUNITY! Or, know someone who would be a perfect fit? Let them know! Share / Like / Tag a friend in a post or comment! To complete application process efficiently and successfully, you must read the Application Instructions carefully before/during application process.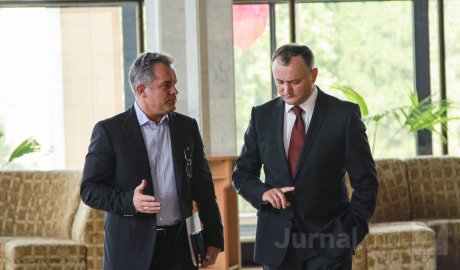 Semnal de alarma! Il va ajuta Dodon iar pe Plahotniuc!
Sunt mesaje de alarma pentru Platforma DA si PAS! Trebuie de luat in calcul orice scenariu pentru a nu fi luat prin surprindere si sa pregatiti plan de rezerva!
Sunt scenarii mai putin plauzibile insa o greseala si mai mare ar fi daca nu s-ar lua in calcul o astfel de posibilitate!
Cei de la Platforma DA se pregatesc pentru proteste masive iar Plahotniuc va face tot posibilul ca sa discrediteze pe liderii acestora cat si Miscarea de Rezistenta Nationala!
Am vorbit de mai multe ori ca Plahotniuc si Dodon incearca sa creeze conflicte interetnice artificiale! Au fost scosi de la naftalina unii unionisti ca sa-l atace pe Andrei iar acum vor fi scosi Socialisti ca sa faca acelasi lucru insa sub o forma diferita!
Sa zicem ca se creeaza un conflict improvizat intre guvernare si presedentie ( nici nu conteaza motivul) insa sigur va fi legat de discrimanarea rusa/a limbi ruse/ variante sunt foarte multe! Ideea de baza este ca Dodon sa scoata pe socialisti in strada! Iar in ziua respectiva este programata si o zi de protest a celor de la Platforma DA si PAS! Iar pe de alta parte se va creea impresia ca socialistii lupta cu guvernarea ( sa zicem ca vor incepe campania electorala pentru a creste in sondaje si ulterior sa faca alianta cu PD/votul mixt este o creatura PD/PSRM)
Este destul ca sa fie pe aceeasi strada sau in aceeasi zi Platforma DA/ PAS si PSRM si lobbistii lui Plahotniuc vor declara atat la Bucuresti cat si in Occident ca ei lupta iar cu rusii!
Iar in categoria de rusi vor intra si cei de la PDA cat si PAS! Chiar daca nu vor avea nimic comun cu protestul organizat de socialisti!
Moscova va veni cu invinuiri ca Andrei este un nationalist roman care vrea unirea cu Romania! Bucurestiul va veni cu invinuiri ca Andrei este pro-rus si ca face jocurile Kremlinului! In urma acestor invinuiri va avea de castigat PD/PSRM!
Andrei practic se afla acuma intre ciocan si nicovala!
Scenariul pentru care trebuie sa fie pregatit:
cum vor actiona cei din Miscarea de Rezistenta Nationala daca Socialisti vor organiza proteste?
cum vor actiona cei din Miscarea de Rezistenta Nationala daca si unionisti va declara ca vor proteste si ca doresc sa lupte cu rusii?
Dupa invalidarea alegerilor locale au aparut foarte multe intrebari pentru persoanele care fac lobby in UE si SUA pentru Plahotniuc! Au devenit al naibi de suspecti si vor incerga sa distraga atentia de la invalidarea alegerilor!
Incercati sa va faceti propriul program! Propria agenda!
How to Stop Missing Deadlines? Follow our Facebook Page and Twitter !-Jobs, internships, scholarships, Conferences, Trainings are published every day!