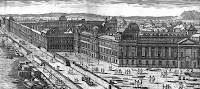 On 8th November 1793, as the Reign of Terror began in Revolutionary France the
Palais du Louvre
(Louvre Palace) first opened in its new role housing a national museum. The palace started life as a twelfth-century fortress, which successive generations of French monarchs altered and expanded. In the mid-eighteenth-century, King Louis XV accepted a proposal to use part of the palace as a gallery in which visitors could view part of the royal collection.
Following the execution of Louis XVI and the suppression of the Catholic Church their respective art collections became property of the French people, as did many works of art confiscated from émigrés (those who had fled the country as the Revolution progressed). The public could view the initial collection of 537 paintings and 184 other works of art for free on three days a week. The French government pledged to provide 100,000 livres per year to expand the collection, but the military successes of the Republic resulted in many works of art from across Europe being brought back to France – a process that continued during Napoleon's reign.
If you wish to learn more, visit the history pages on the Louvre web site.